How to Save Money on Food During Cancer Treatment
Photo: Ambar, captured by Ashley Macadam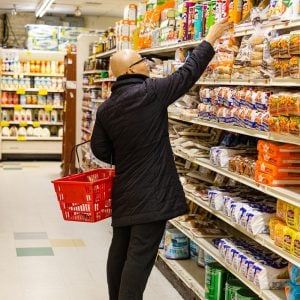 You know better than anyone how important it is to eat well during cancer treatment — yet high food costs, new dietary recommendations, busy schedules, and treatment side effects can make it difficult to follow the doctor's orders. For nearly 2/3 of the families we support, running out of food during cancer treatment and recovery is a very real concern.
Sometimes convenience has to come before saving money when you're limited on time and energy, and that's okay. Exhaustion is real! When you have the headspace, these are our top tips for saving money on food while you or your loved one is going through cancer treatment.
1.
Get the best grocery deals
Grocery coupons expire the same day new ones go out, so you can shop on an overlapping day to get sale prices from both coupon flyers. If you always go to the same store, sign up for a loyalty card to take advantage of rewards and discounts. 
Find coupons by downloading the grocery store apps, browsing their websites, or picking up printed flyers in the store. Other smartphone apps like Ibotta, Shopkick, and Checkout 51 will also help you save money on groceries.
2. Shop with sales in mind
Eating on a budget can still have variety — plan your meals around what's on sale that week to spend less while keeping the menu interesting.
3. Time your shopping carefully
Shop on Wednesdays when deals are at their peak and shelves are restocked for the best options and lowest prices. 
It's also a good idea to avoid shopping when you're hungry. You've probably heard this one before, but it's true that shopping on a full stomach helps limit buying things you don't need.
4. Buy items in bulk and freeze the extras
If your budget allows, there are times when buying more can actually save you money — especially when there's a sale! When there's a deal on buying two instead of one, get both and freeze one for later.
5. Be thrifty in the kitchen 
Some meals will stretch more than others, so when you have the time and energy to cook, consider making food in big batches. You can eat the leftovers throughout the week or freeze them for an easy meal in the future. 
Some cost-effective meals include chili, soup, and one-pot pasta or stir-fry. A store-bought rotisserie chicken also goes a long way — serve with vegetables for dinner, use leftover chicken on sandwiches for lunch, and then use the bones to make homemade stock.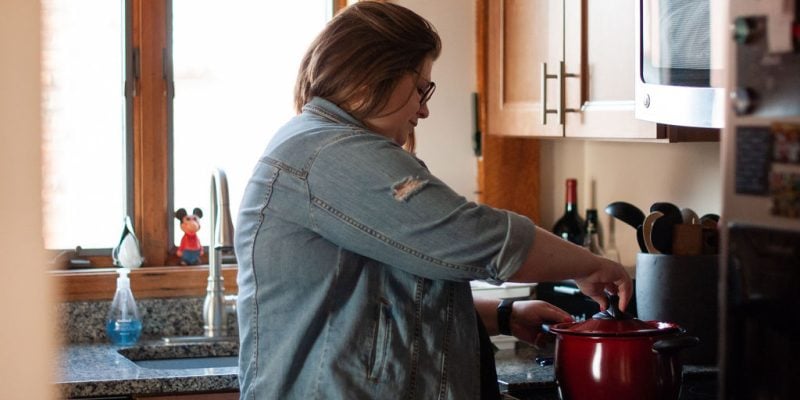 6. Make your own snacks
Avoid spending extra money on pre-packaged, individually wrapped snacks. Instead, buy a big bag of snacks like carrots or pretzels and portion them yourself. 
You may also want to invest in reusable snack bags for extra savings in the long run.
7. Pick seasonal produce
Fruits and vegetables cost more when they're out of season. Plan your shopping list based on the time of year for the most affordable — and tastiest — produce. 
8. Choose generic brands
Opt for the generic version of brand-name products. Most of the time, they're made in the same facilities yet have a smaller price tag.
9. Shop the bottom and top shelves
The most expensive items are at eye level on purpose! You'll find the most affordable items on the lower and upper shelves.
10. Try curbside pickup 
Shopping on your store's website or mobile app can save you money and time. Plus when you don't go into the store, you can skip the temptation of buying unnecessary items.
11. Get the most out of dining out
When eating out, try the kid's menu. These meals are half the price, and you may be surprised by how big the portions are! Alternatively, seek out all-you-can-eat buffets or order larger portions so you can bring home leftovers.
12.  Pack meals for the road
When you have the time and energy, a packed meal costs half the price of a takeout meal. For long travel or days spent at the treatment center, packing food ahead of time can help save money.
13. Pay with cash
When grocery shopping, paying in cash can help you avoid overspending. Set yourself a budget and bring that amount with you in cash. Use a calculator while you shop to keep track — round up to be safe!
When dining out, many restaurants will give you a discount when you pay with cash.
14. Ask your care team about food assistance
Your care team can help you apply for Supplemental Nutrition Assistance Program (SNAP) benefits, often called food stamps. We know asking for this support can feel uncomfortable — you can think of it as a return on your investment after paying into the program with your tax dollars. 
Receiving SNAP benefits then opens the door to other food assistance programs like the Women, Infants, & Children Nutrition Program (WIC) and free lunch programs at schools. 
Your treatment center may also have food banks or vouchers for the cafeteria for you to use.
15. Let friends and family lend a helping hand
You know better than anyone that getting through cancer treatment takes a village. Food is an easy way for people to help save you time and money. Ask a loved one to set up a meal train so people can sign up for a day to drop off food at your house or treatment center. 
Your community may also have resources like discount grocery stores, food pantries, and community fridges that are there to help.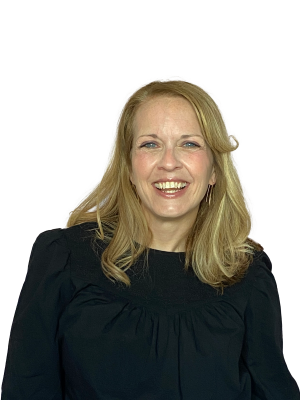 Elizabeth (Liz) Geisel, MSW
Director of Program Delivery
Liz oversees Family Reach's programs that provide non-medical financial support to individuals and families facing cancer nationwide. She believes in trauma-informed services that prioritize choice, control, transparency, and compassion for families going through treatment.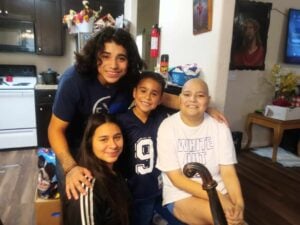 Your holiday giving provides financial relief to families like these who are facing cancer this winter.
Read More »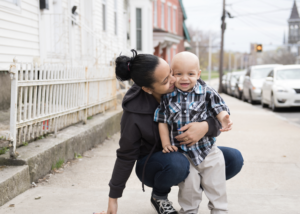 Curious what a donation to Family Reach does? Here's a breakdown of how donations to Family Reach provide financial support to families facing cancer.
Read More »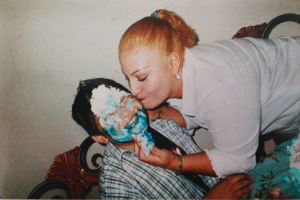 Angel shares how Family Reach allowed him to "breathe again" as he went through the financial and emotional challenges of his mom's cervical cancer treatment.
Read More »
Sign up for Email Updates