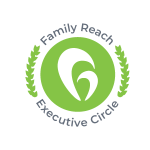 Family Reach Executive Circle
The Executive Circle is an exceptional group of committed donors who recognize an overlooked reality of cancer and choose to be part of the solution. Through generous investments in the Family Reach mission, these influential benefactors encircle patients and their families with strengthened armor to break down the financial barriers of cancer.
The Executive Circle impact
Our programs reduce financial burdens for cancer patients and their families, strengthening their resolve and ability to focus on healing. It's the deep generosity of Executive Circle benefactors that ensures we can scale these solutions to reach more families and meet the growing needs of the cancer community.
When you join this impactful circle of Family Reach champions, you'll play a pivotal role in achieving organization goals, including:
Providing financial interventions as soon after diagnosis as possible
Removing financial barriers so families can focus on healing
Creating sustainable and systemic change
No family should have to choose between their health and their home. Each Executive Circle benefactor gets us one step closer to making this vision a reality for anyone diagnosed with cancer.
Words from the Executive Circle
"Family Reach's support allowed my family to finally take a breath and get out of the red after active treatment was over. We could start our new 'normal' off on the right foot. Thank you so much!"
Vaishalee, cancer hero
"Myself and my family couldn't be more appreciative of your help during this time. Thank YOU all so much!
Jim, dad of cancer hero
"The Financial Planning for Cancer program has helped me and my daughter more than I can say, I can not say thank you enough... Thank you over and over again!"
Pamela, mom & cancer hero
"We appreciate Family Reach and the positive impact you are making in the lives of families. It's people like you who give us hope for the future. Thank you for all you do for families like ours."
Travis, dad of cancer hero
"You have no idea how much this means to us. Ever since Madison's diagnosis, money has been a struggle. From the bottom of my heart, thank you for all you have done for us. I'm literally shedding tears right now."
Natasha, mom of cancer hero
Joining the Executive Circle
The Executive Circle is made up of difference-makers who lead by example, inspire through action, and have a profound influence on the lives of families facing cancer. As contributors to Family Reach's most impactful giving program, Executive Circle donors receive:
Invest in sustainable change for families facing financial toxicity.
With your Executive Circle commitment, we can take a tremendous step toward treating the life-threatening financial side effects of cancer.
For more information about how to join the Executive Circle, contact CEO Carla Tardif at [email protected]
Executive Circle Membership
Executive Circle members pledge a minimum of $25,000 annually for three years in unrestricted giving to Family Reach.
This influential support enables the CEO to make executive decisions, especially through providing the critical capacity to identify barriers that come between Family Reach's ability to best serve cancer patients and their families.
With a cleared path to success, the CEO can lead Family Reach to develop sustainable, measurable, and scalable solutions that forever change the model of how patients and their families experience cancer.
Executive Circle Benefits