Families battling cancer need more than a cure.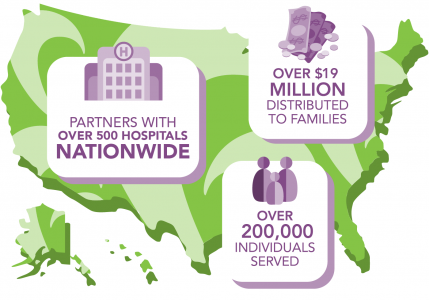 We work directly with oncology social workers at over 500 top-tier hospitals and cancer centers nationwide to provide thousands of families in cancer treatment with critical navigation, planning, education, and emergency relief. Since 2003, our community has helped more than 200,000 individuals from 50 states keep a roof over their head, put food on the table and maintain safe, reliable access to treatment.
Patient Age
0-17: 44%
18-30: 13%
31+: 43%
78% of the families we serve reported their household income was reduced by at least 50% after a cancer diagnosis.
75% are surviving on a post-diagnosis income of less than $50,000.
37% are single-parent households.
Common financial needs expressed by families served
Add impact to your brand by making a difference. When you support Family Reach, you and your followers will be helping thousands of families get back on their feet during cancer treatment.
Financial toxicity is one of the most overlooked issues in the fight against cancer. Your support can help empower those who are struggling to have their voices heard.
Diversify your reach by attracting new followers to your channels who care about our cause.
From insider access to our 5-star culinary experiences and other exclusive events, to one-of-a-kind branded swag, it's our way of saying thank you for helping us bring awareness to our important mission.
We're reaching more families battling cancer thanks to people like you. Our Financial Treatment Program have provided thousands of individuals with critical financial support.
$19 million allocated to families to help them keep up with everyday bills and maintain a safe, stable environment for their children.
18,000+ families received critical information from our Financial Guidebook to help navigate their cancer journey.
4,700+ individuals gained resource navigation support from our dedicated Family Reach social workers.
1+ million families are diagnosed with cancer each year. We're giving them a voice through our data collection and research on the financial burden of cancer.
We're proud to share that 82 percent of our funds go directly toward our programs and services for families. The remaining 18 percent ensure the organization can operate efficiently and effectively.
Family Reach has earned the highest possible rating from Charity Navigator, America's largest independent nonprofit evaluator. Family Reach is also a gold-level nonprofit on GuideStar, the world's largest source of information on nonprofits. These recognitions demonstrate our commitment to accountability, transparency and financial health.
Family Reach Annual Report
"You have no idea how much this means to us. Ever since Madison's diagnosis, money has been a struggle. From the bottom of my heart, thank you for all you have done for us. I'm literally shedding tears right now."
Natasha, mom of cancer hero
"We cannot thank Family Reach enough!! Offering the free Zipcar miles gives families like mine an opportunity to get to and from hospital for life-saving treatment."
Sal, dad of cancer hero
"It was such a blessing to 'catch a break' through Family Reach. Money that was allocated to a bill can now be used for something else. Maybe it can provide a distraction for our girls from the craziness of all things medical and their worries about living with a parent who has cancer."
Robyn, mom with cancer
"We appreciate Family Reach and the positive impact you are making in the lives of families. It's people like you who give us hope for the future. Thank you for all you do for families like ours."
Travis, dad of cancer hero
"There is nothing more horrifying than having to fight for your life and worry about paying medical bills, home expenses, etc. You came through for us at our hour of need and we have nothing but gratefulness to you and your organization."
Laura, mom of cancer hero
"I just want to say, thank you so much. God bless every person that it's part of your amazing team. You guys made our process a little bit better."
Ampari, mom of cancer hero