In Memory of Janet: Family Shares Emotional and Financial Toll of Cancer Journey
Full of life and always one to put family first, Janet was a loving mom to Jacob and Cody and wife of 17 years to Byron. She was dealt a heartbreaking cancer card, starting with a breast cancer diagnosis in 2011.

Janet had a double mastectomy as part of her treatment and her care team estimated a 7% chance of cancer coming back. Despite the promising odds, cancer made its way back to Janet's body by 2018, reaching the bones in her back, sternum, skull, and more. She underwent aggressive chemotherapy and radiation, but the cancer continued to spread.

After three years of intense treatment and soaking up every minute she could with her family, Janet sadly passed away on October 14, 2021.

"Janet fought endlessly and through it all, she kept a smile on her face and managed to remain happy no matter the situation," her husband, Byron, shared. "She has been an inspiration to her family, her community, and [others] suffering from this evil disease. Although her life may have been limited to a short 48 years, her influence will live on in the hearts of those she touched."

Janet's influence is already taking shape, especially as her family graciously shares her journey and experiences with the many costs of cancer.

Thank you to Byron, Jacob, and Cody for letting Janet's light shine through your undeniable love, support, and care. With advocates like you, we can create a future where every family can heal without worrying about money.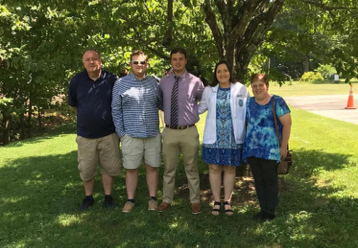 Experiencing the financial and emotional toll of cancer
Janet was working prior to her second diagnosis but had to give up her job in order to manage her intense treatment and side effects. Byron was working with the Federal Bureau of Prison until he had an accident on the job. The couple's sons, now 23 and 17, were in school while their mom was going through treatment, so the family of four got by on Byron's worker's compensation.
As the many costs of cancer piled up, Byron's income wasn't stretching as far as the family needed.
"Raising two children on a single income became increasingly difficult … we slowly fell behind and struggled to catch up on necessary bills," Byron shared. "The money we spent on Janet's fight against cancer caused us to cut back in areas to help pay her medical expenses, including groceries, family vacations, and other families activities."
This financial side only added to the emotional stress of Janet's cancer diagnosis that weighed heavily on the entire family, including the unbearable memory of the "hurt on our sons' faces when we told them the cancer was back." Byron further recalled Janet's frustrations with what cancer was taking from her, even as the family remained strong while the journey continued.
Navigating transportation costs to treatment
Among the costs and challenges of Janet's cancer journey was the family's proximity to her care center. They drove through four counties to get to treatment, which took about 2.5 hours in the car.
"Janet's oncologist was over 100 miles away — a trip that took an extensive mental and physical toll on her already hurting body," Byron explained.
While there are smaller cancer facilities closer to their home in rural Kentucky, Janet wanted to go to the care center that was the best in the state for treating metastatic breast cancer. It was also the cancer center where she was treated when she was first diagnosed in 2011, so she already felt comfortable there.
Understandably, the family took on the additional travel expenses required to get Janet to treatment. This included increased gas expenses for the long drives and lodging near the hospital when timing or energy levels were running low.
Side Effects of Cancer: Why Money Conversations Should Be Part of Your Treatment Plan
Many families facing cancer have similar experiences, especially those who live farther away from urban centers. In fact, more than 40% of the families we serve travel 50 miles or more to treatment. As the travel expenses add up, many families also fall behind on car and insurance payments, which puts them at risk of losing the reliable source of transportation that gets them to treatment.
For families like Janet's, these increased expenses can lead to cutting costs on other essentials like groceries, utilities, or prescription medications.
"Cancer destroys a family's ability to put food on the table and pay their bills [while also] paying for medical treatments," Byron said. "Without Family Reach [and other organizations] assisting our family financially, I'm not sure how we would have made it by."
Where families live or how they're getting groceries isn't always discussed in the hospital room, but it can directly affect a patient's ability to access treatment. This is why Family Reach steps in to help with the non-medical, financial side of cancer.
Finding support and honoring Janet's life
After hearing Janet's story and reviewing her family's application to our Financial Treatment Program, Family Reach was able to provide a combination of services to reduce financial distress. This included a free financial guidebook filled with cost-saving tips and actionable advice, resource navigation to direct them to other support, and a referral to a free financial coach for personalized guidance.
For immediate relief, Family Reach also covered housing and food payments to ensure the family's basic essentials were met while Janet continued treatment.
"Family Reach's help was like lifting a burden off our backs, especially knowing someone out there really cares and wants to help families that are struggling financially because of the fight against a terrible disease," Byron said. "My boys and I have decided that we will make a donation to Family Reach every year in memory of Janet."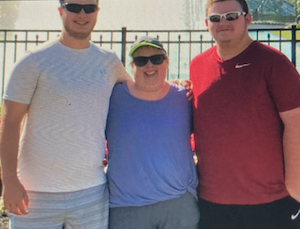 We're deeply saddened that Janet's family had to say goodbye to such an incredible woman, and humbled by Byron, Jacob, and Cody's decision to continually support the Family Reach mission. Our hope is that no one has to go through cancer alone, and we're committed to changing today's financial reality of a diagnosis.
"Cancer takes a large enough toll on a person already, they need someone to stand by their side every step of the way," Byron said. "Ensure that you make every moment count (even the smallest ones) and never skip an opportunity to tell your loved ones just how much you love them."
With lots of love to Janet, Byron, Jacob, and Cody – thank you for including Family Reach in your family's journey.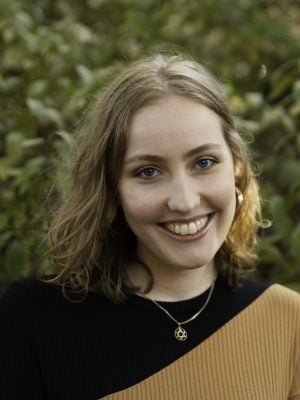 Senior Creative and Brand Manager • Family Reach Team
Always walking the fine line between her right and left brain, Stevie brings her creative and strategic thinking to her role as Senior Creative and Brand Manager. Her work amplifies Family Reach's voice and brings attention to the financial impacts of a cancer diagnosis.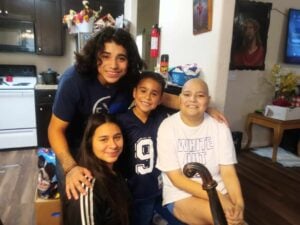 Your holiday giving provides financial relief to families like these who are facing cancer this winter.
Read More »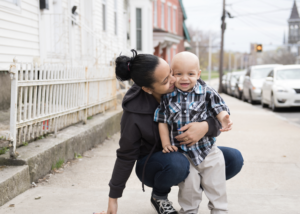 Curious what a donation to Family Reach does? Here's a breakdown of how donations to Family Reach provide financial support to families facing cancer.
Read More »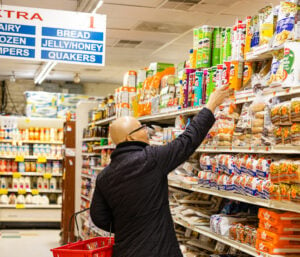 These tips will help you save money on food while you or your loved one is going through cancer treatment.
Read More »
Sign up for Email Updates