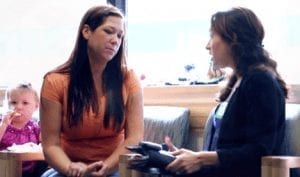 When families face a health crisis like cancer, they often quickly begin to incur credit card debt, borrow against 401ks and skip mortgage payments as they try to stay afloat. Family Reach, the Foundation for Financial Planning (FFP) and the Financial Planning Association® (FPA®) have launched a new program, Financial Planning for Cancer, to ensure financial barriers never get in the way of a patient's access to care.
A growing need
When Effy was diagnosed with cancer at just 2 years old, her mom, Jennifer, gave up her job as a school administrator. She stayed by Effy's bedside and looked after Effy's brother, Henry, while her husband, James, continued working. The family of four soon found themselves in financial crisis.
"The bills start coming in and your real life doesn't stop," says Jennifer. "You still have mortgage, gas and water –  all these things to pay for. Every dollar we put away for our children's college was gone in a month."
One in three families with a child in cancer treatment are like Effy's – unable to access basic needs (housing, food). Seventy-three percent of adult cancer patients also experience some form of cancer-related financial toxicity. These numbers are the driving force behind the Financial Planning for Cancer program.
Support at the start
Financial Planning for Cancer pairs cancer patients and their families with pro bono financial planners to help them manage expenses and reduce debt during cancer treatment.
"It's challenging for families fighting cancer to think about their financial health while they focus on their loved one's well-being," says Jon Dauphine, Executive Director at FFP.  "By bringing pro bono financial planning to the table, we're giving these families a financial ally. They'll now have someone in their corner helping them stay financially on track during their cancer journey."
This unique program builds lifelong skills and confidence in financial management, aiding families from treatment to survivorship. Patients and caregivers learn how to leverage budget and balance sheets, examine life, long-term care or disability insurance options and negotiate debt. This one-on-one assistance allows families to formulate a plan they can execute as they move forward, protecting their financial health and, in turn, their loved one's chance of overcoming cancer.
How it works
Financial Planning for Cancer leverages a digital hub that matches financial planning coaches with patients and caregivers. All coaches are Certified Financial Planner™ (CFP®) professionals to ensure consistent professional standards. CFP® professionals are also educated on the unique needs of cancer patients through an online training program, ensuring they are equipped to provide these families with the best support possible.
"Our goal is to scale quickly in 2018 and bring Financial Planning for Cancer to hospitals and cancer centers across the country," says Rebecca Lobb, Director of Programs and Research at Family Reach. "We believe in the work we are doing with FFP and FPA, and we believe financial planning should be a standard part of the treatment process for all families fighting cancer."
Are you a patient or caregiver looking for financial planning support? Please contact [email protected].
Are you a CFP® professional interested in getting involved? Contact [email protected].
Are you a healthcare professional interested in bringing Financial Planning for Cancer to your patients? Contact Rebecca Lobb at [email protected].
Sign up for Email Updates