Our Beginnings
Family Reach was established as a joint effort of the families of Christopher Colangelo and Kristine Morello-Wiatrak. In 1981, 11-year-old Christopher lost his battle with neuroblastoma. Kristine passed away in 1995 at 27 years old after fighting Ewing's sarcoma, a pediatric type of cancer. The Colangelo and Morello-Wiatrak families were astounded by the expenses associated with treatment that compounded during the challenge of helping their loved one—transportation, special nutrition needs, day care, etc. Motivated by their personal experiences, both families independently sought to help others with the financial and emotional burdens of pediatric cancers.
In 1996, the families of Christopher and Kristine decided to combine forces. For 7 years, they provided support to families at Memorial Sloan-Kettering and Columbia Presbyterian Hospital in New York through grassroots efforts and fundraising. In 2003, the founders launched Family Reach as a formal 501(c)(3) nonprofit organization. Since that time, Family Reach has generated almost $14 million in gross contributions through annual events, special programs, individual donations, and corporate partners. Thousands of families fighting cancer have benefited from grants to help pay for critical nonmedical and medical expenses. Family Reach now serves the needs of families through prominent hospitals across the country, including Dana-Farber Cancer Institute in Boston, Johns Hopkins Children's Center in Baltimore, and UCSF Benioff Children's Hospital in San Francisco.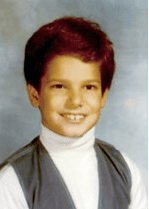 Christopher Colangelo
Christopher Colangelo, the eldest child of James and Andrea Colangelo, was born on April 15, 1970 in Union, New Jersey. He attended Hamilton Elementary School, where he participated in the school's Gifted and Talented Program. Christopher also served as a 4H Club President and was a star athlete. Outgoing and sensitive, his family remembers him as someone who was always curious and quick to learn new things.
In March of 1978, Christopher was diagnosed with Stage 4 metastatic neuroblastoma. After surgery to remove a spinal tumor, his adrenal gland, and kidney, Christopher underwent grueling chemotherapy for 2-and-a-half years, as well as numerous rounds of radiation. When the regimen failed to destroy the cancer, Christopher participated in an experimental trial at Johns Hopkins Medical Center in Baltimore in June 1981. Despite these efforts, Christopher lost his battle with cancer on September 1, 1981 at 11 years old.
Christopher's family remembers his tremendous care for others, happiness, and energy. He faced his illness with strength, humor, and courage beyond his years, and accepted his death with peace. Christopher's spirit lives on through his family and in the work of Family Reach.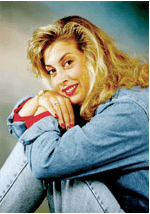 Kristine Morello-Wiatrak
Kristine Morello-Wiatrak, the first child of Richard and Marilyn Morello, was born on September 3, 1968. From an early age, she was always sunny, positive, and possessed a gift for making friends. As a teenager, Kristine excelled at school and pursued dance, gymnastics, soccer, and softball. She attended the College of New Jersey, where she majored in marketing and was the vice president of the marketing club while working a part-time job. Upon graduating with a 3.5 GPA, Kristine went to work as a sales representative at Eli Lilly, where she won several awards.
In 1990, Kristine met Christopher Wiatrak. After 5 years together, they were engaged. Just 6 months later, Kristine and Chris received unimaginable news—Kristine was diagnosed with Ewing's sarcoma, a rare form of cancer.
She began treatment at Memorial Sloan-Kettering Cancer Center in New York, which became her second home. Kristine faced her worst nightmare without complaint. While in the hospital, she was a cheerleader for other patients during their struggles. She visited their rooms and rallied them with her radiant smile, her uncanny sense of humor, and her fighting spirit. Against all odds, she and Christopher were married on September 24, 1995.
Sadly, just months later, on December 14, 1995, Kristine lost her battle with cancer at 27 years old. Before she passed, she requested that her family give assistance to others fighting cancer just as she had received so much financial and spiritual support from family, friends, and the community. Even after her death, her tremendous spirit of generosity lives on.