Through the generosity of the John Hancock Non-Profit Marathon Program we once again received bibs for this year's Boston Marathon! Our Reach Athlete  team is full of passionate, fearless and downright driven runners, and we're excited for you to meet them. They've set the bar high – raise $75,000 for families fighting cancer. Click here to help make that happen.
We asked each of our runners:
Is this your first marathon?
Why run Boston?
How does the Family Reach mission inspire you?
What is your pre-race plan?
Which Family Reach family is motivating you?
Joe Theis
This will be my fifth marathon and fourth Boston Marathon.
I run for the challenge, to stay healthy, and to try to inspire my kids to set big goals and then work hard to achieve them.
Family Reach inspires me through the families and patients they help every day. They are a wonderful organization that is focused on making an immediate impact on the lives of individual patients and their families. Family Reach isn't afraid to tackle hard questions when thinking about how to address the impact of financial toxicity on a national scale.
I'm mostly focused on staying relaxed through the start of the race. I try to drink as much water as I can the night before and have a large pasta dinner. The morning of the race will involve more hydrating and a small breakfast.
For the second year in a row I'm running for Elle, a 6-year-old cancer fighter. Elle inspires me through her perseverance and determination.
Click here to help Joe reach his fundraising goal.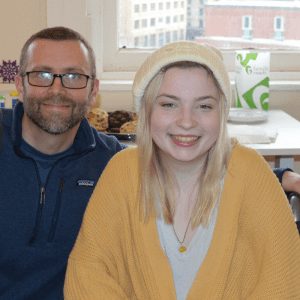 This will be my fourth marathon and second Boston Marathon.

I grew up and have lived my entire life in the Boston area. The energy in the city on Patriots' Day for the Red Sox game and the Boston Marathon is incredible. The crowds are amazing and carry you to the finish line.

I first learned of Family Reach in 2014 from a friend. I was amazed at how passionate everyone at Family Reach was about helping families. There is a genuine, intimate relationship with everyone involved!

I get very excited and nervous before a big race. It's typically a real struggle for me to get good sleep the night before. There is a lot of waiting around at the start of the marathon. I stay loose, try to relax and enjoy the moment.

I'm running for 15-year-old cancer-fighter Camille. I had the privilege of meeting Camille and was amazed by her positive attitude and sense of humor. I hope to make her proud with my fundraising and race.
Click here to help Rusty meet his fundraising goal.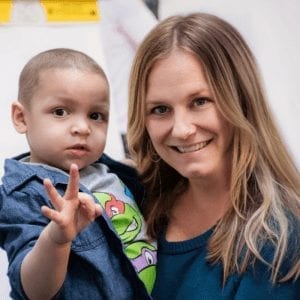 Amy Buelow
This is my first marathon.
It has been a lifelong goal to run Boston. Turning 40 this year makes it the perfect time to celebrate!
My friends, Dianne and Ed, lost their son Jack to cancer. Their courage and strength in raising awareness and support for families inspired me to get involved. As a photographer, I have donated my time to capture special moments with several Family Reach families. In the eyes of these families, I see my own children, nieces, nephews and neighbors. We all hug and hold the exact same way. Yet cancer has chosen them and now they must fight. Cancer is a problem for all of us, and we all need to provide our support.
I'm taking it day by day, following a run plan and focusing on my health.
I'm running on behalf of 2-year-old Family Reach hero Brendon!
Click here to help Amy reach her fundraising goal.
Sarah Smith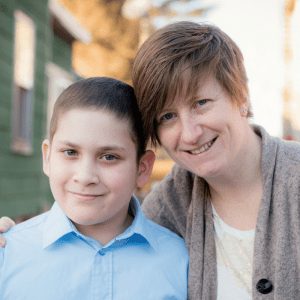 This is my fourth marathon.
I've watched the Boston Marathon since I was a kid. It's been a lifelong goal to participate and to also run a marathon in every place I have lived. Running the Boston Marathon will help complete that list. I love the city and the atmosphere of this iconic race.
Cancer has entered my life through many people I know. When the opportunity came to run for Family Reach, and have an impact on those who need help and are fighting bigger battles than I am, I knew I needed to step up.
I'm following a marathon plan and trying to maintain healthy eating.
I am running for 12-year-old Justin. What struck me most when I met Justin and his family was their concern for others, despite having their own obstacles. I went on a 12-mile run in the bitter cold the day after I met them. Whenever I felt like stopping my run and calling for a ride, I thought of Justin and how he can't just make a call because he doesn't feel like having cancer.
Click here to help Sarah reach her fundraising goal.
Thanks for getting to know this talented, inspiring team! Help them reach their goal and support families like Elle's, Brendon's, Camille's and Justin's. Click here .