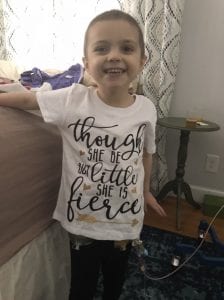 Many of our cancer warriors say a positive attitude helps carry them through the trying times. Ruby, a 4-year-old girl who was diagnosed with neuroblastoma in June 2017, embodies this mindset every day.
"She sees the best in her situation and always looks to make friends and have as much fun as she can when she is in treatment," shares Ruby's mother, Nichole.
An uphill struggle
At the time of Ruby's diagnosis, her parents had just bought a new home, had an infant, and Nichole had only been at her new job for three weeks.
"One of the first thoughts I had was, "How are we going to pay our mortgage?"" says Nichole.
Ruby's treatment has been very intense. She has undergone multiple surgeries, including a recent stem-cell transplant, and countless months in and out of the hospital. Ruby also has two ostomy bags that need constant tending to throughout the day. As a result, her parents both had to take extended leaves of absence from work.
"The further we go into treatment the more I worry about being able to afford it," shares Nichole.
Bright days ahead
Thanks to our generous community, your help assisted the family with several months of their oil bill. This allowed Ruby's family to ensure the heat remained on during such a critical time in their daughter's cancer journey.
In October, Ruby underwent an 18-hour surgery to remove the tumor that was wrapped around her celiac valve. The surgical team was able to remove 90 percent of the tumor and after two more rounds of chemo, the tumor is completely gone!
Ruby is still hooked up to an IV for 18-hours a day to receive hydration and nutrition, but her optimism has never wavered. The family is looking forward to summertime when Ruby can swim, enjoy her love of dancing and play with her brother Max with ease.
"Through all of this, Ruby has never complained and always has a great outlook. She is such a strong little girl and my husband and I could not be more proud of her," says Nichole.
Sign up for Email Updates