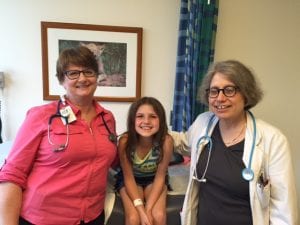 Before cancer struck the Thocher family, mom, Tracie worked full time as a restaurant manager while dad, John, worked as a military trainer. They had three healthy children that brought them immense joy. When Tracie was pregnant with her fourth child, Emma, she was diagnosed with stage III Hodgkin's lymphoma. Her cancer grew quickly, causing both of her lungs to collapse as she delivered the baby. One week after delivering Emma, Tracie began an intensive two year treatment protocol that included surgery, chemotherapy, radiation and a bone marrow transplant. Just two weeks after completing treatment, she and John were brought to their knees with the news that their daughter, Baylee, had cancer.
Baylee is the third child of John and Tracie. She was six years old when she was diagnosed with astrocytoma, an aggressive brain cancer. Over the last four years, Baylee has endured numerous surgeries, multiple rounds of chemotherapy, radiation treatments and ongoing testing and monitoring. Unfortunately, it was recently discovered that her cancer had metastasized to her spine. Her medical team at UNC-Chapel Hill Medical Center has designed a new, more aggressive treatment plan in efforts to slow the progression of Baylee's disease. This protocol requires Baylee to spend additional time at the hospital each month.
For the past six years, only John has been able to work, taking on as many hours as possible to support his family. But, as Baylee's disease has progressed and the costs associated with her treatment have increased, it has become impossible for the family to maintain financial stability.
The family's social worker from UNC Chapel Hill contacted Family Reach seeking support. "Tracie and John have been heroic over the last six years. In the face of tremendous emotional and financial adversity, Baylee and her siblings have remained their top priority. John is a proud, hardworking father who is resistant to asking for help. With the recent progression of Baylee's disease, he is now ready to accept assistance. Baylee's treatment team is concerned that the financial burden of her disease is beginning to take a toll on her family. Please consider Tracie and John for a grant to provide significant relief from their current financial situation. This relief will allow Baylee's treatment team time to assemble a longer term solution for support."
Family Reach worked with Baylee's social worker to assess the family's immediate financial needs and how best to stabilize them. Family Reach provided Tracie and John assistance covering two months mortgage, three months car payments and two months garbage service. These bills were paid directly to the vendors within five business days of the family's social worker connecting with Family Reach, bringing immediate relief to the entire family and treatment team.
Tracie and John are so grateful for this critical assistance made possible by the supporters of Family Reach. Tracie recently said: "It's not my strength that has gotten my family through so much. It's knowing that God has placed amazing people in our lives, like those involved with Family Reach, to help us. Thank you so much again for all you have done."
Sign up for Email Updates