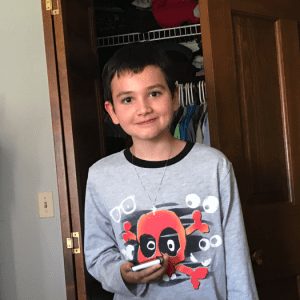 Luke is an active 13 year old and huge Boston sports fan. His favorite team and player? The Patriots and Tom Brady! He also enjoys practicing the guitar and finds inspiration from his favorite bands, the Beatles and Pearl Jam.
Luke was diagnosed with leukemia in 2011. He has faced numerous complications along the way, including pancreatitis, hydrocephalus,meningitis and a stroke. Today he is currently looking into a bone marrow transplant.
A stressful situation
Luke's diagnosis has taken an enormous hit on his family's finances. Both parents have had to stop working at various times throughout the last six years to fulfill caregiving responsibilities.
Daily expenses also increased due to consistent travel to and from the hospital and food purchased during long, regular treatment visits. The family quickly went through their savings and retirement money and soon realized the dire situation they were in.
A hopeful future
The Family Reach community stepped in to provide support with the family's mortgage bill, allowing them to worry less about finances and more about Luke.
We're happy to share that Luke is back to school and proud to be doing well! He has learned to walk again and even rode his bike for the first time since being diagnosed with cancer. We are keeping Luke in our thoughts as he continues his fight!
Learn how to provide life-changing support to families like Luke's here.
Sign up for Email Updates