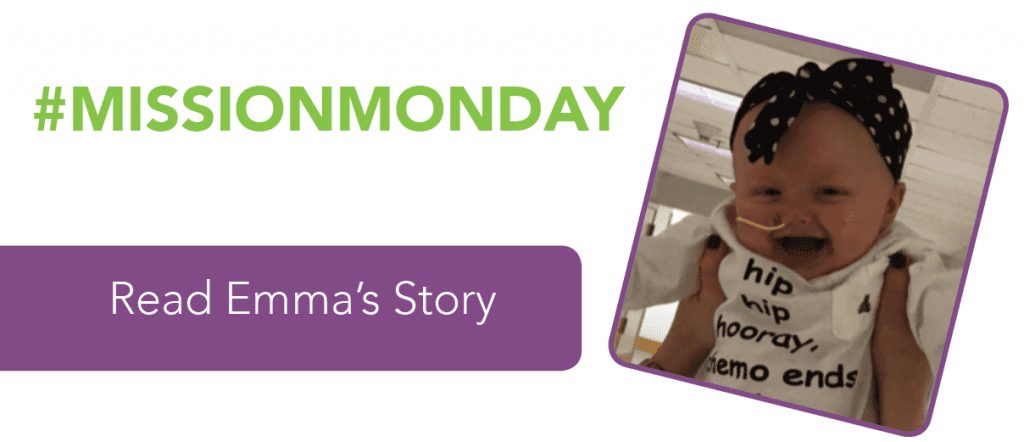 Emma is an adorable and outgoing baby girl who was diagnosed with a rare sarcoma at only 8 months old. The firstborn child to loving parents, Lindsey and AJ, Emma's fight to survive has been truly remarkable. Her first year of treatment was extremely difficult, filled with significant and unexpected complications.
During Emma's first chemotherapy treatment, she suffered a cardio-respiratory arrest. This complication caused significant harm to Emma's tiny body, including partial paralysis. In addition to her cancer treatment, Emma now required extensive physical and cognitive therapy.
Before cancer, both of Emma's parents worked full-time, Lindsey as a middle school teacher and AJ as a corrections officer. Lindsey and AJ both received overwhelming support from their colleagues and employers who even donated time off early on in Emma's treatment, as they navigated this significant life change.
Emma's prolonged in-patient stay in Philadelphia further impacted Lindsey and AJ's financial situation. The out-of-pocket medical expenses related to Emma's treatment quickly impacted their finances. Concerned about the financial burdens of Emma's cancer diagnosis, the young couple approached their social worker at Children's Hospital of Philadelphia.
Almost immediately, an application was submitted by their social worker for a grant to cover their monthly mortgage costs. Family Reach approved the application for financial support and a check was sent to their mortgage company within a couple of days.
Family Reach paid $2,000 for a month of mortgage costs. By providing funding for their housing, Family Reach was able to reduce the enormous stress that AJ and Lindsey were under. With the knowledge that their housing was now stabilized, they could focus on getting Emma well and back home to New Jersey.
In a recent update, AJ and Lindsey reported that Emma is doing extremely well. Her tumor was successfully removed in September and her last chemotherapy treatment was at the end of December. To the delight of her parents and treatment team, all of Emma's scans and tests in February came up NED (no evidence of disease). She still goes to physical and occupational therapy twice a week to focus on the side effects from her treatment. AJ reports, "She has started walking, something the doctors never promised she would be able to do."
Sign up for Email Updates