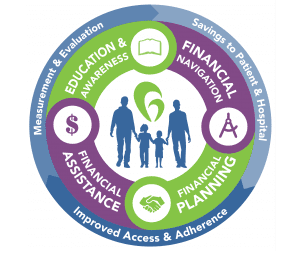 For more than two decades, Family Reach has remained dedicated to eliminating the financial burden of cancer for patients and their families. This year we joined Vice President Joe Biden as he announced findings from his  Cancer Moonshot Task Force, an initiative announced at President Obama's State of the Union Address earlier this year.
In response to the Vice President's call for collaboration and action through the Cancer Moonshot, we are expanding our efforts and introducing our Financial Treatment Initiative, a groundbreaking program that addresses every aspect of this problem, providing families with the resources and support they need to maintain their whole financial health while they fight cancer.
The Financial Treatment Initiative zeroes in on four key focus areas that we have identified as being crucial to financial health through our work with hospitals, doctors, patients, and caregivers:
Education & Awareness: The first step is to open the lines of communication between patients and healthcare professionals. This will ensure that patients and families have a clear understanding of available resources. The Family Reach Financial Handbook – a resource written in partnership with patients and caregivers who have been there – will outline the often hard-to-find information and address the direct and indirect costs that accompany cancer care
Financial Navigation:  A specially trained financial navigator will work through the complexities of costs of care and related insurance with each patient and family. This will enable them to optimize health insurance coverage for their specific need, provide access to patent assistance for medications, help with the disability application process, identify assistance for transportation, and more.
Financial Planning: Through a partnership with the Foundation for Financial Planning and Financial Planning Association, certified financial planners will provide their services pro-bono to patients and their families to better plan for anticipated care-related expenses and loss of income.
Financial Assistance: To prevent patients from having to make impossible financial decisions, direct financial support is also provided for emergent needs. Direct assistance grants will provide funding to cover the non-medical expenses that often become unmanageable due to additional costs and loss of income associated with diagnosis and treatment. These costs include mortgage payments, utility bills, food, etc.
The Financial Treatment Initiative will kick off as a pilot at Tufts Medical Center in late 2017. The program aims to remove financial barriers and ensure access to care and adherence to life-saving treatment, ultimately increasing a patient's chance of survival.
We're confident that the data collected through these programs will confirm what we already know – families fighting cancer are more likely to have a positive outcome if they receive holistic financial support. With this evidence in hand, we'll be better equipped to develop new programs and partnerships designed to reduce cancer treatment-related financial toxicity and improve cancer patients' outcomes. That means families like the Longos, whose hardworking, devoted father was diagnosed with Non-Hodgkin lymphoma, won't have to choose between paying their mortgage or paying treatment costs. Or families like the McLauglins, whose 9-year-old daughter has been fighting acute lymphoblastic leukemia since she was 18 months old, won't have to spend sleepless nights wondering how they'll afford getting to a life-saving clinical trial in Philadelphia.
Cancer patient treatment and care is on the cusp of tremendous change and at Family Reach, we're excited to lead the way in bringing financial solutions to patients and families who need us now.
Sign up for Email Updates