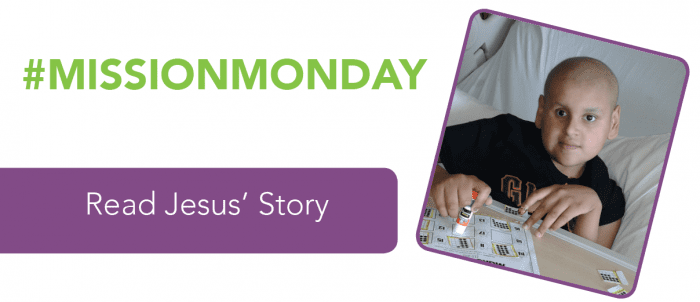 Jesus is 10 years old and was diagnosed with Bilateral Retinoblastoma in 2007. In 2014, the cancer spread to his left foot. While Jesus is facing an uncertain future, he refuses to give up. Since his diagnosis, Jesus and his family have had to confront the realty of extensive treatments like chemotherapy, right eye enucleation, an autologous stem cell transplant, and external beam radiation. These treatments are helping Jesus to make progress in his battle with cancer. Jesus receives his treatment at UCSF Benioff Children's Hospital where he benefits from excellent medical care.
Jesus lives with his parents, two sisters, and maternal grandmother. Because Jesus continues to struggle with reoccurring bouts of cancer, his mother had to stop working to give him the care he needs. These changes have impacted Jesus' family's housing situation. They have had to move in with his maternal grandmother. As his family stays by his side, they have had to worry about where they will find the financial resources they need.
Family Reach supported Jesus and his family for two gift cards for the Hope for the Holidays program. These gift cards helped give Jesus and his family the resources for a holiday celebration that they otherwise couldn't have been able to afford. These gift cards allowed Jesus' family to put aside the stressors of the holiday season, so they can focus on what's most important: Jesus.
Sign up for Email Updates