#MissionMonday: Hope for the Holidays, Meet our Families
Our Hope for the Holidays program is in full swing and we need your help. Through this giving initiative, 100 percent of donations go directly to families in need in the form of gift cards they can use to buy presents, food and everyday necessities. If you are interested in supporting families struggling with the financial burden of cancer, please visit www.familyreach.org/holidays.
Here are some of the families that need your support this holiday season:
MeleAna, 12 months old, Hawaii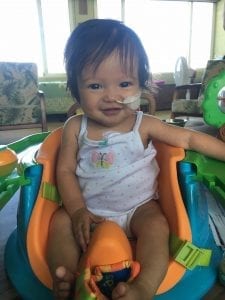 A sweet and bubbly 12 month old, MeleAna was diagnosed with hepatoblastoma this past spring. MeleAna lives with her mother, Kiley Iona, great-grandmother and 15-year-old uncle. MeleAna's 22-year-old aunt will soon join the family as well. Kiley is the sole caregiver, but has been unable to work due to complications from her pregnancy with MeleAna and now her daughter's cancer diagnosis.
When she was first diagnosed, MeleAna underwent a tenuous and prolonged hospitalization in the Pediatric Intensive Care Unit at Kapiolani Medical Center, approximately one hour from her family's home. She now receives intensive outpatient therapy, occupational therapy and speech therapy there multiple times per week. The extensive driving and Kiley's inability to work has put a huge financial strain on the family. Your support will provide enormous relief and give Kiley the resources to celebrate the holidays and create precious memories with MeleAna and the rest of her family.
Arsen, 15 years old, Massachusetts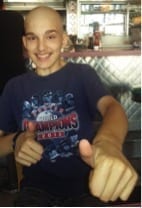 Arsen is a smart and enthusiastic young man who was diagnosed with pelvic Ewing sarcoma this past summer. He lives with his younger sister, Sarineh, and their single mother, Naro, in an apartment in the suburbs of Massachusetts. Naro was about to start a new administrative job with Lincoln Labs when Arsen fell ill. Due to the level of care Arsen needs, including intensive chemotherapy that requires up to five visits per week to the Jimmy Fund Clinic in Boston, Naro has been unable to work.
This has caused extreme financial strain, and Naro struggles to put enough food on the table, never mind afford gifts to celebrate the season. With your contributions, Arsen and his family can enjoy the holidays and breathe a little easier
Tyneece, 7 years old, Tennessee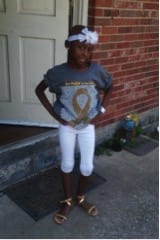 Sweet and full of energy, seven-year-old Tyneece loves to play with her nine- and ten-year-old sisters. Last February, Tyneece was diagnosed with medulloblastoma, a type of brain tumor. As part of her treatment plan, she has had her brain tumor removed and undergone inpatient chemotherapy and outpatient radiation. Recently her father, the family's main financial provider, required surgery due to a newly discovered medical issue. This has left both of Tyneece's parents unable to work. During this time, the family's car has broken down and they have had to rely on the generosity of friends and family for transportation to Tyneece's appointments and procedures, placing an added weight on their shoulders.
Despite these setbacks, Tyneece has a great emotional support system. Her parents are actively engaged in getting her the best care possible while her older siblings help lift her spirits through arts and crafts, music and regularly making her smile during treatment. By supporting Tyneece and her family, you will provide this loving family the opportunity to revel in a day of celebration and joy.
These are just a few of the families your donations will help during this time of giving, celebration and joy. To donate or learn more, go to familyreach.org/holidays.