Kris is no stranger to what it means to be a Reach Athlete. On behalf of Family Reach, he has competed in the Boston Marathon, multiple IronMan races and other events that have tested his endurance. Kris is committed to our mission and has used the strength of our community to carry him through the finish line time and time again.
"While I would love to see a world where nobody suffers from any form of cancer, there will always be those in need of help who have nowhere else to turn," says Kris. "Family Reach makes it easy to get help and restores dignity, pride, safety and all other good things that we need in our lives. And, I say yes to that!"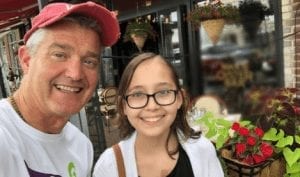 Pushing limits for cancer-fighters
This summer, Kris will take on two IronMans in honor of cancer-fighter Emma. Emma was diagnosed with osteosarcoma when she was eleven years old in March of 2015 and has relapsed twice. After she underwent thoracotomies on each of her lungs in August and September of 2017, Emma, who is now fourteen years old, currently is showing no evidence of disease (NED).
Emma is an intelligent young girl who loves to teach herself new things using online tutorials. With dreams of becoming a film editor, she enjoys watching scary movies, reading anything that has to do with Harry Potter and seeing musicals on Broadway.
Emma and Kris had the pleasure of meeting one another last month, making their connection even stronger.
"It's one thing to have raced in the past for a cause, but meeting a true hero like Emma was a game-changer for me. Emma is a wonderful human that has nothing but a bright future on her mind," says Kris. "Having Emma's strength and drive on my side makes 140.6 miles (2.4 mile swim, 112 mile bike and 26.2 mile run) seem like a cake walk. I'm a better person for having met her."
A family connection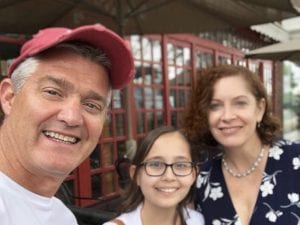 Emma's mom, Pam, shares that Emma has been a champ throughout her cancer journey and never complains. Emma's strength seems to inspire everyone she encounters.
"After meeting Kris, I realized he gets it. "Ironman is a huge challenge to take on, but Kris knows that what Emma has been through, and cancer-fighting kids like her, has been equally and even more challenging," says Pam. "Knowing Kris is running for Family Reach in honor of Emma makes it that much more poignant for me, because Family Reach was there when we needed them. They paid our mortgage which allowed us to stay in our home."
Family Reach is proud to support families like Emma's and create genuine connections between our Reach Athletes and cancer-warriors.
"Kris, thank you for doing this for Emma and Family Reach! They do important work for families who are struggling in so many ways," says Pam. "After having met you, we know you have what it takes to finish two IronMans in a year! Wherever we are, we will be rooting you on!"
Donate to Kris's Family Reach fundraising page here!
Sign up for Email Updates