Imagine Cancer Equity Series Concludes with Patient and Caregiver Voices
Brimming with gratitude and eagerness to push forward with solutions, we wrapped up our Imagine Cancer Equity series on March 18, 2021.
Throughout the series, we hosted collaborative sessions focused on disparities in cancer care. The first session featured expert speakers who discussed how social determinants of health create inequities in accessing and adhering to treatment, while the second virtual conversation explored how collaboration across sectors can reduce disparities.
In the final session, we invited the key voices that have been missing from the conversation to this point to share their perspectives: the patients, caregivers, and families who are navigating these barriers every day.
We were also blessed with a special jazz performance to conclude our series. The inspiring rendition of Louis Armstrong's "What A Wonderful World" performed by Wynton Marsalis, Ted Nash, and Kristen Lee Sergeant grounded our conversation in a moment of optimism and collective joy. This gave us a chance to pause – something we often forget to do when we're running full speed ahead in the cancer space.
From there, we handed off the mic to dive into our patient and caregiver conversation. Click play to hear the conversation firsthand, and keep reading for our biggest takeaways.
Listening to patient and caregiver stories
Moderated by Felicia Ellerbe, a Certified Registered Nurse who works with surgical oncology patients and member of the National Black Nurses Association, the Concerned Black Nurses of Newark NJ Chapter, and Alpha Kappa Alpha Sorority, Incorporated, the conversation began with our speakers sharing their stories.

Tamika Felder, cancer survivor and founder of Cervivor, was diagnosed with cervical cancer in 2001 and reflected on the shock and devastation she felt when she first found out about her diagnosis. Marisela, a pediatric caregiver, echoed Tamika's feelings, sharing how scared her family was that her younger sister, Estrellita, was going to die.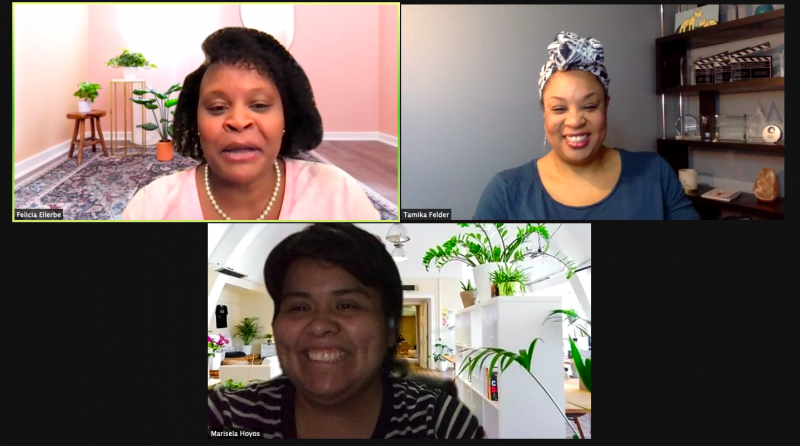 When thinking back to some of the barriers that played a role in her cancer journey, Tamika shared the harsh financial reality she faced.

"At 25, I was making what I thought was a good salary, I was taking care of myself, had my own home and car, and lived states away from my family," she said. "But during treatment, I often found myself with just $20 in the bank to cover transportation, food, co-pays, medication, and more. Cancer very nearly bankrupted me — and it does bankrupt so many other patients."

For Marisela, going through Estrellita's treatment during the COVID-19 pandemic meant all of the financial responsibility fell on her shoulders.

"My mom and brother lost their jobs and I was the only one working in the household. My mom is a single mom, and I am also a single mom of three kids," she said. "Not only did I have to worry about paying the rent and keeping the lights on, but I also had to cook food and then arrange transportation to get it to my sister when she was in the hospital."

Both Marisela and Tamika expressed feeling grateful that their race and ethnicity didn't initially play a role in their cancer journey and the treatment they received, though they did point out some specific barriers unique to their experiences.

"Language has played a big role in my sister's care," Marisela shared. "My mom only speaks Spanish, and there are medical terms that doctors use that she doesn't always understand. I've had to take time off work to translate during appointments and when I'm not there, they use a translation machine that just isn't the same as speaking to a real human being."

Tamika highlighted a nuance specific to the cancer experience as a patient of color.

"There is such a low bar among communities of color when we enter a circumstance where there is already a health disparity gap," she explained. "My experience was better than that low bar I expected, but it's important for people to keep working to understand nuances in cultures and ethnicities. We can't look at treatment as a one-shoe-fits-all, but at the same time, we can't put certain groups on the back burner."
How Do Social Determinants of Health Affect Cancer Patients?
Uncovering solutions through patient and caregiver perspectives
As the conversation continued, Tamika, Marisela, and Felicia offered their thoughts on how their experiences could inspire changes within and outside the healthcare system to reduce disparities in cancer care.

"I've always had a voice, always been confident. When I was diagnosed with cancer, I was silenced. I lost my voice," Tamika said. "There are people that fall through the cracks and we have to show people they have the power to change their circumstance."

Marisela continued this thought, saying "if we put the seed in the cracks and plant it there, maybe we won't help a lot of people, but even just one person makes a difference."

Marisela also encouraged organizations to diversify their staff so there's more chance of someone on the team being able to relate to the various patients and families being supported. Tamika and Felicia emphasized the need for patient resources to be inclusive and accessible for all patients, including those who may not seem like they need the support on paper or others who may be out of the cultural or personal comfort zone to ask for help.

"Cancer is the great equalizer," Felicia said. "It brings everyone to the same level so please be conscious of removing your implicit biases from the conversation, forget what you think you know about a certain group, and enter each patient or caregiver interaction with a pure heart."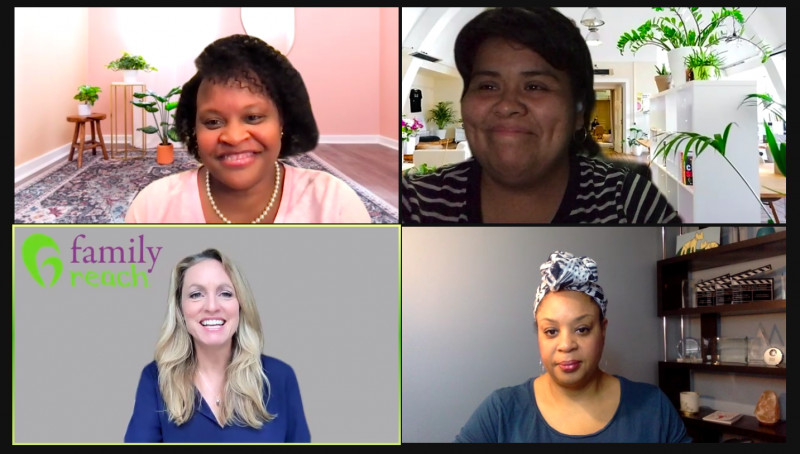 Continuing the conversation
Our Imagine Cancer Equity series may have come to a close, but the conversation doesn't end here. We launched the series to talk about social determinants of health in earnest and evaluate the opportunity Family Reach has to better serve our families.
With a mission to remove the financial barriers that stand between patients and their treatment, Family Reach was born out of the needs that disparities create. While we have always served families from all backgrounds, the Imagine Cancer Equity series brought to light the critical need to dig deeper into the many paths that lead families to our Financial Treatment Program.
We must be prepared to meet all patients and caregivers exactly where they are, and this includes applying a racial equity lens to our programs. Family Reach is committed to addressing the connection between race, geography, financial health, and many other social determinants as we continue to evolve and improve the impact of our support services. In doing this work, listening to patients and caregivers and learning from their perspectives will always be part of our plan.
Thank you, Imagine sponsors!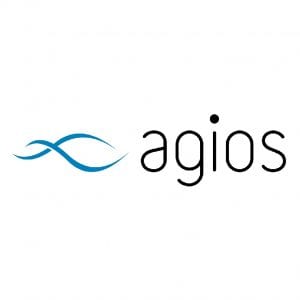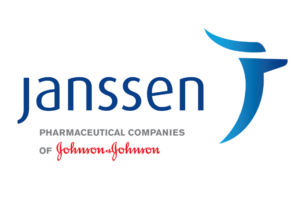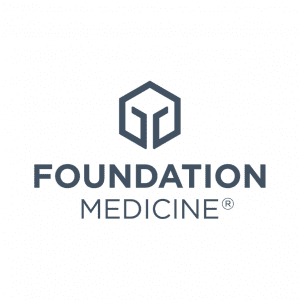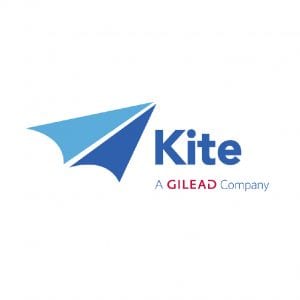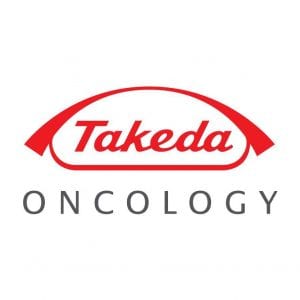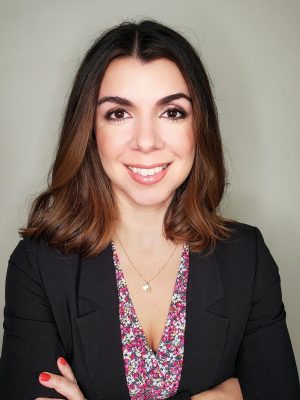 As COO at Family Reach, Rosie plays a pivotal role in the progression of the organization's services, research, and collaborations. She launched the inaugural strategic planning process in 2019 and works closely with the team to ensure that all internal and external activity is aligned to push the mission forwards.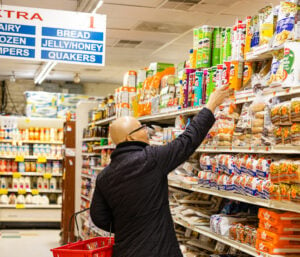 These tips will help you save money on food while you or your loved one is going through cancer treatment.
Read More »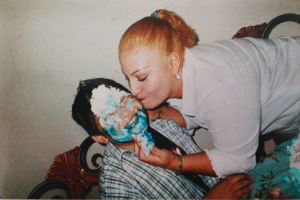 Angel shares how Family Reach allowed him to "breathe again" as he went through the financial and emotional challenges of his mom's cervical cancer treatment.
Read More »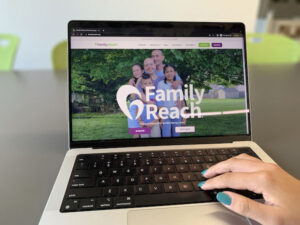 Meet the four interns who joined Family Reach this summer to help provide financial relief to families facing cancer nationwide.
Read More »
Sign up for Email Updates