Our Family Reach team is expanding! We're excited to introduce you to Emily Dodd, our new Partnerships Manager. Emily has a background in education, including teaching and working for education-based nonprofits.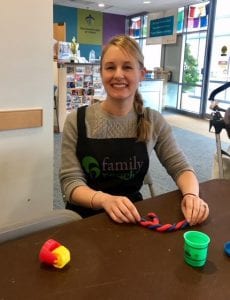 "When I learned about Family Reach I fell in love with the mission," says Emily. "I jumped at the opportunity to join this relatively small, but mighty team making a huge difference in the lives of families fighting cancer across the country."
Meeting the family
During Emily's first week, she visited Massachusetts General Hospital with our Family Relations Manager, Nicole Ackerman. They had the pleasure of meeting 2-year-old Grant, one of our cancer-fighting heroes.
"It was so meaningful to meet Grant and his family at MGH last week," Emily shares. "It really brought our mission home for me when I learned about the family's unique cancer journey and how Family Reach's direct financial support made an incredibly overwhelming and stressful experience more bearable, allowing them to focus fully on Grant's treatment."
Grant crafted paper aquariums with Emily and gave her a tour of the hospital floor he's grown accustomed to.
"He was having a lot of fun pushing the handicapped access buttons to make all the doors open," Emily says. "It was a great little side adventure!"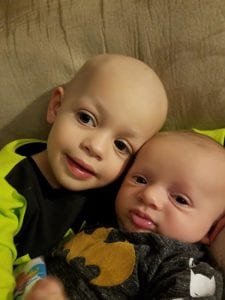 Finding her stride
Emily's passion and caring demeanor have made her right at home with the Family Reach team. She understands the importance of raising awareness and finding solutions for cancer-related financial toxicity and is eager to work with corporate partners who share this outlook as well.
"I believe strongly that the financial circumstances you face following a diagnosis should not dictate your health outcomes," says Emily.  "I'm thrilled to work for an organization that shares this value." 
Sign up for Email Updates