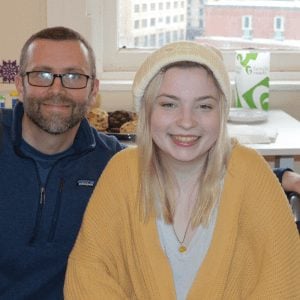 On Monday April 16, Rusty Bilodeau will be running in our country's most historic race, the Boston Marathon. This will be his second time running on behalf of Family Reach to raise money for families battling cancer. To help inspire our Reach Athletes during their training, we match them with one of our cancer-fighting heroes! It's one of the many ways we love making donor – patient connections. Rusty is proudly running in honor of 15-year-old Camille, who has been fighting osteosarcoma, bone cancer, since she was 10 years old.
"I remember the day I was told I would be partnered with Camille," says Rusty. "Camille is not a very common name, but it has a lot of significance in my family. My wife's 94 year old grandmother's name is Camille, my daughter's middle name is Camille, and my niece's name is Camille! This match was meant to be!"
No excuses
Rusty is a Boston native and his city pride shines through his ongoing fundraising efforts and extensive physical training.
"It's important for me to put all I have not only into my fundraising, but also my training," he shares. "There are a lot of people who have invested in me and Family Reach. I want to make them proud."
Rusty set his fundraising goal high – raise $10,000 to support cancer-fighting families like Camille's. He reached that goal in less than three months. His new goal? Raise $20,000 by April 14!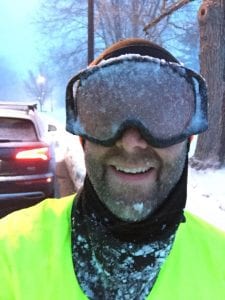 Whether it's running 13 miles in four degree weather, eating well with his family, or hosting raffles to continue fundraising, Rusty reminds himself to enjoy each day as it comes and turns to our families for motivation.
"I know Camille's mom, Colleen, is a single mom and had to give up time at work to care for Camille," says Rusty. "I, too, was raised by a single mother and could not imagine how difficult (if not impossible) it would have been to survive financially through something like this. Camille and Colleen's strength and positive attitude have left me in awe."
Making a difference
Camille has become an active member of the Family Reach community and inspires others with all she achieves.
"I have faced three relapses, multiple surgeries and countless treatments over the last five years," says Camille. "Throughout it all, I have always chosen to make the best of my situation and give back anywhere I can."
As a freshman in high school, she enjoys musical theater and plans to study forensics or business in college with the goal of working for a nonprofit one day. She is the founder and president of Reach Leadership at her school which is one way she continues to educate others and spread awareness for childhood cancer.
"It's crazy to think my story is motivating someone else to build their own personal journey by running a marathon," Camille says. "If my battle helps or inspires someone, it kind of makes the hard times feel more justified and worth it in a way."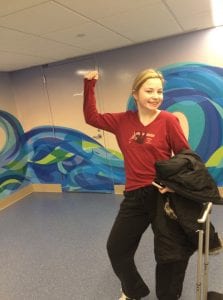 Together, Rusty and Camille are helping to change the conversation around cancer-related financial toxicity and are leading the way for others to do the same.
"The marathon, in so many ways, can be compared to mine and others' journeys with cancer. Some moments you're feeling strong, then suddenly you start to feel tired. Some moments are harder than others and there are a lot of bumps along the way," says Camille. "Sometimes you just want to give up, but suddenly you're crossing the finish line and you think, "Wow, I came so far. This was so worth it.""
Get Involved
Our runners are fiercely dedicated to making a difference in the lives of families battling cancer. If you wish to get involved in future Reach Athlete events and connect with heroes like Camille, please contact Amanda Bruneau, Family Reach Community Engagement Manager, at [email protected].
Good luck to all of the runners, Family Reach will be cheering you on!
Click here to make an immediate difference and help our runners exceed their goals before the Boston Marathon!
Sign up for Email Updates