On April 15, 2019 nearly 30,000 runners will take on the 123nd Boston Marathon but only 5 incredible runners – Maria, Megann, Eric, Jon and Kristine – will be running on behalf of Family Reach through our official partnership with John Hancock's Marathon Non-Profit Program.
Together, our Family Reach Five will start in Hopkinton, race through Wellesley, tackle Heartbreak Hill, take a right on Hereford, left on Boylston and then cross the iconic Boston Marathon finish line. Each step they take propels Family Reach forward and helps more families facing the financial burden of cancer.
Want to know what motivates our runners to run 26.2 miles for Family Reach? Learn more about them!
Meet Jon & Kristine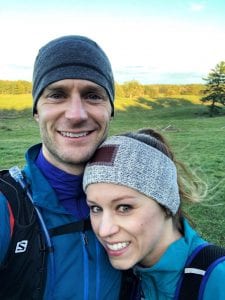 Jon and I are from Michigan where we met in college at the University of Michigan. Jon is a patent attorney in Boston, and I work remotely as a recruiter. We live in Topsfield, MA with our two young daughters, Gracie (3) and Avery (1).
Jon: Running, to me, means challenging myself, chasing adventure and refreshing my body and spirit, all through the abiding simplicity of putting one foot in front of another in repetition. Whether trails, treadmill, or tarmac, running has become an important fixture of everyday life.
Kristine: Running was something I used to do to stay in shape, but as my life has evolved, so has my relationship with running. I had a difficult pregnancy in 2011; we lost our first daughter, Darla. After losing her, in an effort to get my body healthy, I signed up for a marathon as a New Year's Resolution. I ran the Sugarloaf Marathon in May of 2014, and in August of 2014, we got pregnant with our daughter, Gracie. Running has been a constant thing in my life. I've used it to feel strong, to heal, and to connect with others who share the same passion.
On Running the Boston Marathon
Jon: Since moving to Boston five years ago, my dream to run the marathon quickly transformed into a mission. I recall the first time I experienced the infectious energy and positivity that permeates through Boston during marathon weekend. I was inspired by the passion and feverish support of locals lining the entirety of the course. Watching the race, I envisioned myself mustering the strength necessary to climb Heartbreak Hill, 20 miles already under my belt, and being willed to the finish line by the crowds surrounding Boylston Street.
Kristine: Running Boston has been a dream of mine for some time now. The symbolism of conquering this iconic marathon mirrors the past few years of our life: challenging, full of uphills and downhills, and also, surrounded by support from others cheering us on.
On Running for Family Reach
We love the way Family Reach sees the whole picture when it comes to cancer treatment. They work to support the entire family, recognizing that external factors, like financial stress, play a role in a patient's ability to heal. Supporting the network that is assisting in recovery is a progressive and comprehensive approach that we truly believe in.
Meet Maria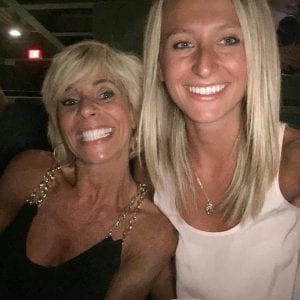 I was born and raised in Winthrop, MA! I am a Special Education Teacher at Brighton High School, working with students across all ability levels.
I have been a runner my entire life, inspired and motivated by my mom. I'll never forget the first time I ran with her. I was seven-years-old on vacation in Maine and insisted on finishing her run with her while I was wearing jeans. When I think of running, I think of my mom. She pushes me, guides me and encourages me. I love having that connection and using running as a way to stay healthy. Plus, my competitive side thrives in race environments.
On Running the Boston Marathon
Running the Boston Marathon has always been my dream. I remember standing in front of my television as a little girl and watching the marathon on Patriot's Day. Seeing the elite runners gave me chills and the tears came soon after. Once the mainstream runners appeared, I remember thinking, "I have to do this".
On Running for Family Reach
Undergoing treatment and going through a cancer journey is very lonely. People reach out to cancer-fighters initially by sending food or encouraging words but as time passes that support stops. Family Reach helps to alleviate the financial burden that cancer has on families and restore hope. I am so honored to be running for such a wonderful team and helping to bridge the gap between hospital and home!
Meet Megann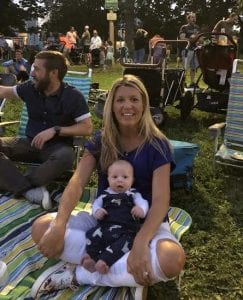 I grew up on the North Shore in MA but have lived in Boston since 2008. I currently live in Southie and am a stay at home mom to my two babies, Marley (2) and Reid (4 months). I also teach CPR & new parenting classes on the side.  
Running had always been my way to escape and gather myself. I remember one year on Christmas Eve, nothing was going my way and I was in a hurry to go see my family. I went to walk out the door but just couldn't get myself there. I went back into my room, changed into running clothes and did my usual route along the water. It was so peaceful and by the time I got ready to leave again, my stress was completely gone. I told myself to never forget that feeling and know that I just have to throw on some shoes, and in 30 minutes, I will be back to myself.
On Running the Boston Marathon
This is something I have dreamt of doing since I was a child. My dad ran it two years in a row and I always remember how proud he was talking about it. How it was such a cool experience. And even though I had no idea what it actually meant, I remember feeling proud of him. I am excited to be part of that club. And what better way to get back into shape and make some time for myself after having two babies in two years?
On Running for Family Reach
I have seen the effects cancer can have on a family first hand. Two years ago, my sister was diagnosed with cancer. At the time, she had a 1 and 4-year-old. Luckily, she was able to work full time throughout her treatment and had tons of help from her husband and the rest of the family. They were able to financially stay afloat, but it was so easy to see why so many families cannot. It's really great to know that there are organizations like Family Reach where people can turn to at the worst time of their lives for some help.  
Meet Eric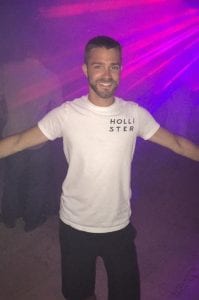 I grew up in Quincy, MA and currently live in Whitman, MA. I work as an analyst for a health insurance company. Throughout the years, I have always run 5ks and it was always a goal and dream of mine to run Boston. I recently did my first half. Running is my way of clearing my head and de-stressing.
On Running the Boston Marathon
It has always been a dream to run a marathon. I know everyone says why not start off with an easy route but I feel like if I'm gonna run a marathon then I'm going to start off where I grew up first.
On Running for Family Reach
Since working in health insurance, I hear families call and talk about the large hospital bills they struggle to pay because of cancer. Family Reach allows people to really focus on the important things in life while in treatment.
Want to support the Family Reach Five as they race to their $75,000 fundraising goal to help families struggling with the financial burden of cancer? Donate Here
Sign up for Email Updates