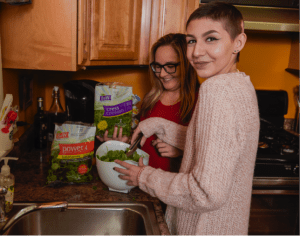 B&W Quality Growers is a 145-year-old grower, packer and shipper of distinctive baby leaves like watercress, arugula and its new power 4™ blend. Their commitment to the highest quality baby greens results in the most delicious and nutritious foods available. B&W's unmatched dedication to sustainability and community has driven their passion and success as an industry leader.
A new partnership
We're dedicated to alleviating the financial burden of cancer for families across the country. It's a big undertaking, but thanks to our partners and loyal community, we're constantly getting closer. That's why we're excited to announce that B&W Quality Growers has decided to join Family Reach at the table as a corporate partner. They're helping us expand our reach and impact on the lives of families fighting cancer.
"We see many families lose their income because of a cancer diagnosis," says Carla Tardif,
CEO of Family Reach. "They wonder how they will buy groceries or pay the mortgage. This
drastically affects a patient's chances of beating cancer. We are so grateful to B&W for joining
us in putting an end to this national crisis."
We're working with companies like B&W to make sure families avoid falling into this dangerous situation. The more we work together, the better we can serve the thousands of families across the country who turn to us each year for help.
"We believe we have a duty as a global organization to make a difference where we can," says Mark DeLeo, CEO of B&W. "Family Reach's mission to provide families fighting cancer with basic human needs like nutritious food and home security resonated with us. We're a family-centric organization that believes in giving back, and striving to not only do well corporately, but do the right thing socially."
Funding from B&W will ensure families fighting cancer have the resources they need to keep a roof over their heads, put food on the table and maintain safe transportation to treatment. Access to these everyday human needs is an essential part of cancer care. Together, we're giving families their best shot at overcoming cancer.
Meet Haley
Haley is a 16 year old who loves to shop, listen to music and play around with makeup styles. She lives with her close-knit family of four, which includes an 8-year-old brother who's always quick to make her laugh. Haley is also a cancer fighter. She began treatment immediately when diagnosed with Ewing's sarcoma. This meant in-patient visits lasting anywhere from five to seven days every three weeks.
Haley's mother went from full- to part-time employment and quickly used all her paid time off looking after her daughter. This loss of income paired with everyday expenses was more than the family could handle.
Thanks to our expansive community and corporate partners like B&W, we were able to step in and help Haley's family stay afloat and focus on what matters most: Haley's recovery.
Keep an eye out for the Family Reach logo on B&W greens at your grocery store! Join us in supporting families fighting cancer with every purchase.
Learn more about B&W at www.bwqualitygrowers.com.
Sign up for Email Updates