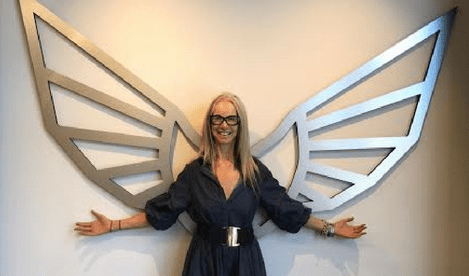 Family Reach is all about pushing limits, especially when it comes to our popular Reach Athletes program. We applaud people who are not afraid to take risks. Catharine Arnston, founder and CEO of Energybits Inc., knows what it means to strive for success with the intention of helping others.
We had the privilege of speaking with Catharine about her sister's cancer diagnosis, her unique algae products and her inspiring plans for the future. Read on to learn her story and hear why she was eager to become an integral part of our Reach Athlete community and support Family Reach as an In-kind Sponsor.
Family Reach:
How did your inspiration for Energybits Inc. come about ?
Catharine Arnston:
This idea came to me after my younger sister was diagnosed with breast cancer and told by her doctor to eat an alkaline diet. I love to research, so I helped her find foods and that's what prompted me to keep reading. I was intrigued by what I was learning about algae and soon convinced this was a diet that needed to be followed. I was only trying to help my sister, but the more I researched, the more I knew I had to share this with other people.
FR: What emotions and thoughts did you experience when you learned your sister had cancer?
CA: Until cancer hits you, or a family member, I don't think anyone understands the emotional trauma that you experience. It immobilizes you out of fear. There's all this noise in the background that just has to disappear. Everybody is scared but there's also an outpouring of love. It really put my life into perspective.
FR: Our community understands the rush of emotions more than anyone. What is it about the Family Reach mission that resonates with you?
CA: Family Reach is focused on the now. When you have cancer, it's really hard to do everything else in your day, let alone figure out how you're going to afford their bills. I really like how Family Reach helps with one of the most difficult pieces of moving forward – the financial piece. Money is generally raised for research and large institutions, but Family Reach is focused on the individual. They add a personal touch to it all because they are present and they help families through very trying times.
FR: Families are the inspiration behind all we do. Is the meaning of family an integral part of Energybits Inc.?
CA: This is truly a labor of love for me. I believe if you create something out of love and wanting to make a difference, and you trust that feeling, you can't go wrong. My staff shares this view and have become like family to me. One of my greatest delights is that I'm attracting really great people to come work for us. They see the company is being built with integrity and they believe in our mission to make a difference.
FR: What are your plans for the future?
CA: We have the new website coming soon and a few new products we'd like to launch in the next year or so! As we continue to expand, we are excited to be able to support foundations similar to Family Reach that are helping people deal with chronic illnesses, like cancer.
Sign up for Email Updates