"We See You" Campaign Sparks Awareness and Support For Cancer Community During COVID-19
Our world is hurting right now. We're all feeling the weight of this pandemic, striving to find a sense of normalcy amidst waves of uncertainty. Leaning on one another for support one moment but feeling alone the next. It's heartbreaking – and it's a reality the cancer community knows all too well.
A cancer diagnosis fully uproots a family's life. They face crippling emotional, physical, and financial hardships as fear simultaneously creeps in. Isolation is a must to protect their immunocompromised loved one from germs. Unpaid bills pile up because work isn't an option when you're a full-time patient or caregiver. This lack of income then forces families to make dangerous decisions, such as paying for their mortgage or chemotherapy.
Now imagine being in those shoes, already facing a vicious downward spiral of unimaginable hardships, and then a pandemic hits.
Standing with cancer patients
These harsh realities are the stories we hear every day at Family Reach, and they've only intensified since the outbreak. More than raising critical funds to meet these deep needs, our team knew we needed to raise awareness for what the cancer community is experiencing right now.
And that's how our We See You Campaign came to be! Inspired by our Manifesto, we created a butterfly graphic, symbolizing hope, to let cancer patients know they're not alone. This graphic is part of a series that includes quotes from our families talking about the intensified hardships they're facing during COVID-19.
A simple post with a clear message to cancer patients: You are not alone and Family Reach is ready to help.
Sparking a social movement
Launched in early April, this campaign has since received an overwhelming amount of support and sparked a social movement that is still going strong today.
Beloved celebrities and longtime friends of Family Reach, Youtube sensation Colleen Ballinger and actress Rachel Dratch, shared the We See You Campaign on their platforms and generously donated to show their support. Athletes such as Mike Lee and cancer advocates like Rachel didn't waste any time jumping in too, letting their audiences know the cancer community needs help today.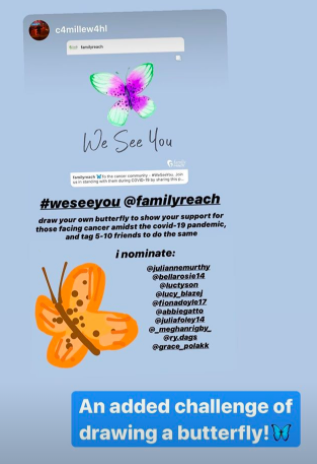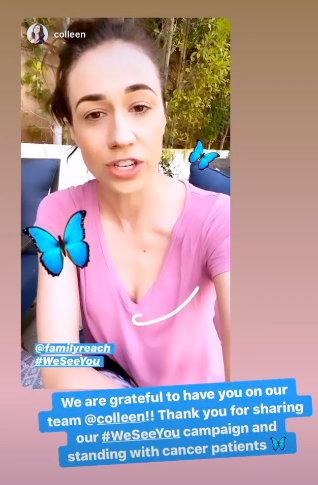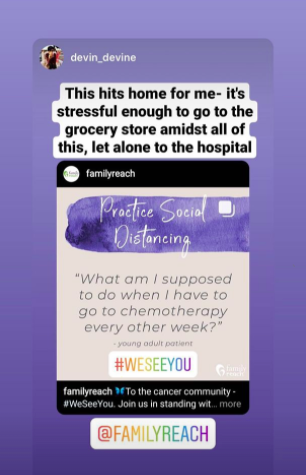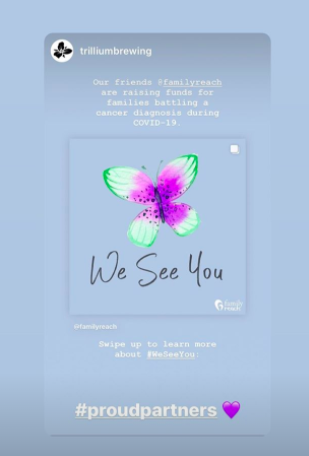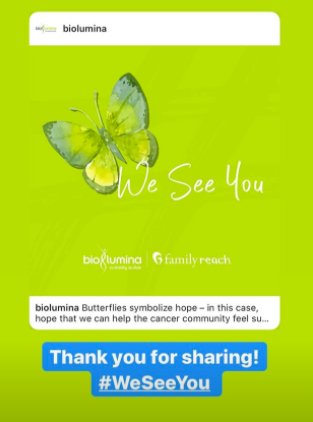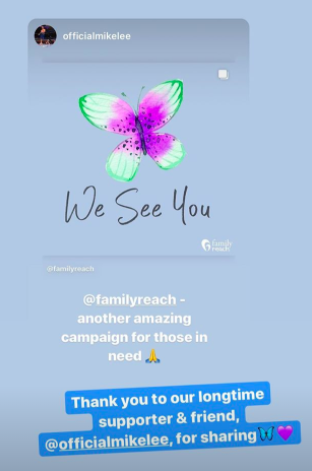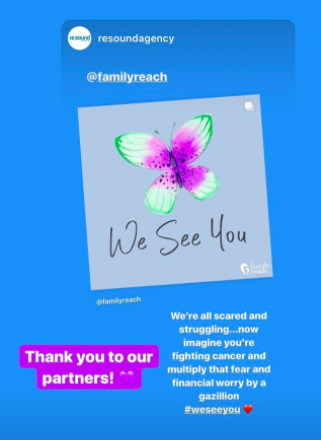 Many of our partners, such as AbbVie, Biolumina, and Exelixis, shared this campaign with their employees in addition to posting on social media. This gave their teams an easy way to give back to patients who are gravely impacted by the pandemic.

The involvement from hundreds of our community members, influencers, partners, and new supporters created a groundswell that amplified this campaign in a big way. In just two weeks, our post across social channels reached 250,000+ people and had more than 11,000 engagements. Butterflies were everywhere!
Keeping the momentum going
The message of "we see you" is at the core of everything we do. From our first-ever Virtual Reach Athlete Marathon Relay to working with other nonprofits through our LiFT Network, our families know we stand with them.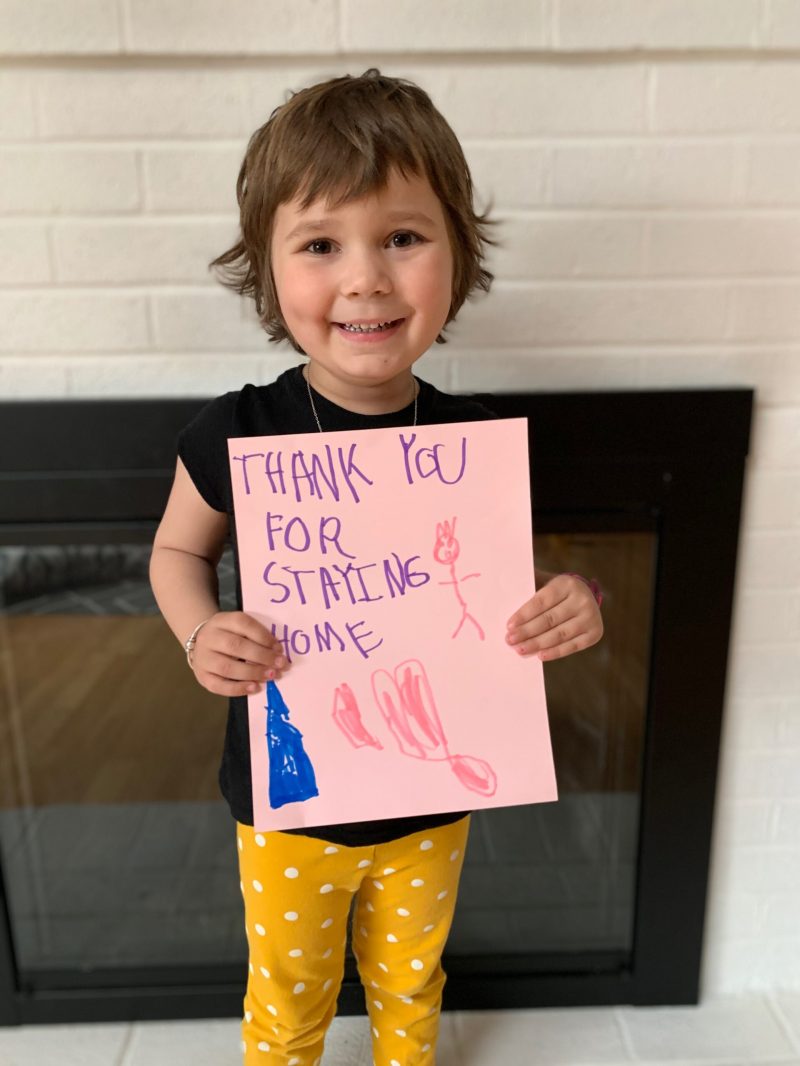 Eventually our world will slowly open up again, and many of us will be able to find a renewed way of living. But cancer patients won't have that luxury. The lasting impacts of a cancer diagnosis coupled with the effects of COVID-19 will affect their long-term financial futures. And that's why we need you to act today.
Share our butterfly of hope on your Instagram story, Twitter, and Facebook (tag @familyreach so we can show you love!)
Read and share our blogs featuring stories about our cancer patients and families
Save the date! #GivingTuesdayNow is May 5 and your donations will now be matched by a generous sponsor
Yes, it's this easy to make a difference! Let's get to it.
Thank you to all of our supporters for your generous support. Family Reach is committed to reaching more families in need, and we couldn't do it without you.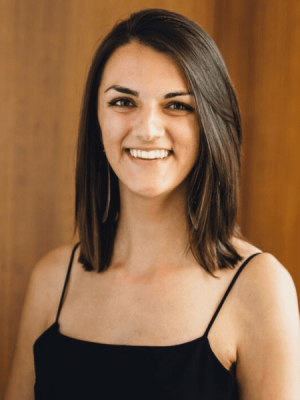 Senior Marketing Manager • Family Reach Staff
As Senior Marketing Manager at Family Reach, Autumn ensures brand consistency and oversees all digital marketing campaigns, social media strategy, and influencer relationships. She believes in authentic living, and a combination of hard work and magical thinking.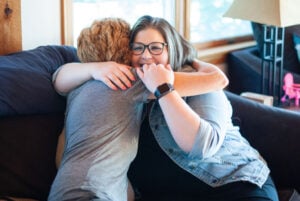 Help caregivers like these support their families during cancer treatment.
Read More »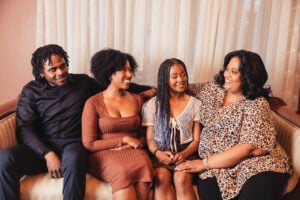 Nicole shares how Family Reach offered not only financial support during cancer treatment, but also a community.
Read More »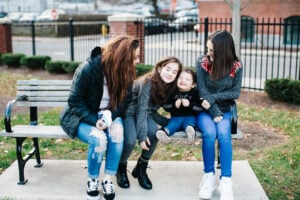 Find out how partners like AbbVie and the AbbVie Foundation help us scale, challenge the status quo, and invest in a better system for people with cancer.
Read More »
Sign up for Email Updates