Chef Ming Tsai's Live Virtual Cooking Event Raises $454,000 for Cancer Families
The word "pivot" always gives me flashbacks to "Friends" (Ross' new couch, anyone?), but now it's become one of Family Reach's team mantras as we navigate the COVID-19 world. As we've shared before, our team extends far beyond the office walls and includes many generous supporters who are dedicated to helping families overcome the financial barriers of cancer.
Chef Ming Tsai, member of Family Reach's National Advisory Board, has been amplifying our mission and raising funds for more than 10 years. One of our most beloved events, Cooking Live, was created by him and has since expanded in incredibly impactful ways. While we couldn't gather for the beloved event this year, Chef Ming was committed to hosting a virtual alternative.
Through this passion, coupled with long nights and thoughtful teamwork, the first-ever Cooking Live Cook-a-Thon presented by TIME and B&W Quality Growers was born. Taking place on Instagram Live, Chef Ming invited his celebrity friends and fellow chefs to virtually join him in the kitchen the weekend of May 22, 2020. They cooked delicious new recipes, shared many belly laughs, and encouraged viewers to donate in support of cancer patients.
"If you can imagine dealing with cancer during this pandemic, it's a complete nightmare. That's why we're doing this, these cancer patients are why we're here," Chef Ming shared during one of the live segments.
Dishing up a lasting impact 
The impressive Cooking Live Cook-a-Thon lineup included Guy Fieri, Chef José Andrés, Carla Hall, Reese Witherspoon, Chef Amanda Freitag, Chef Aarón Sánchez, Paris Hilton, David Ortiz, and Ben McKee, bassist for the Imagine Dragons.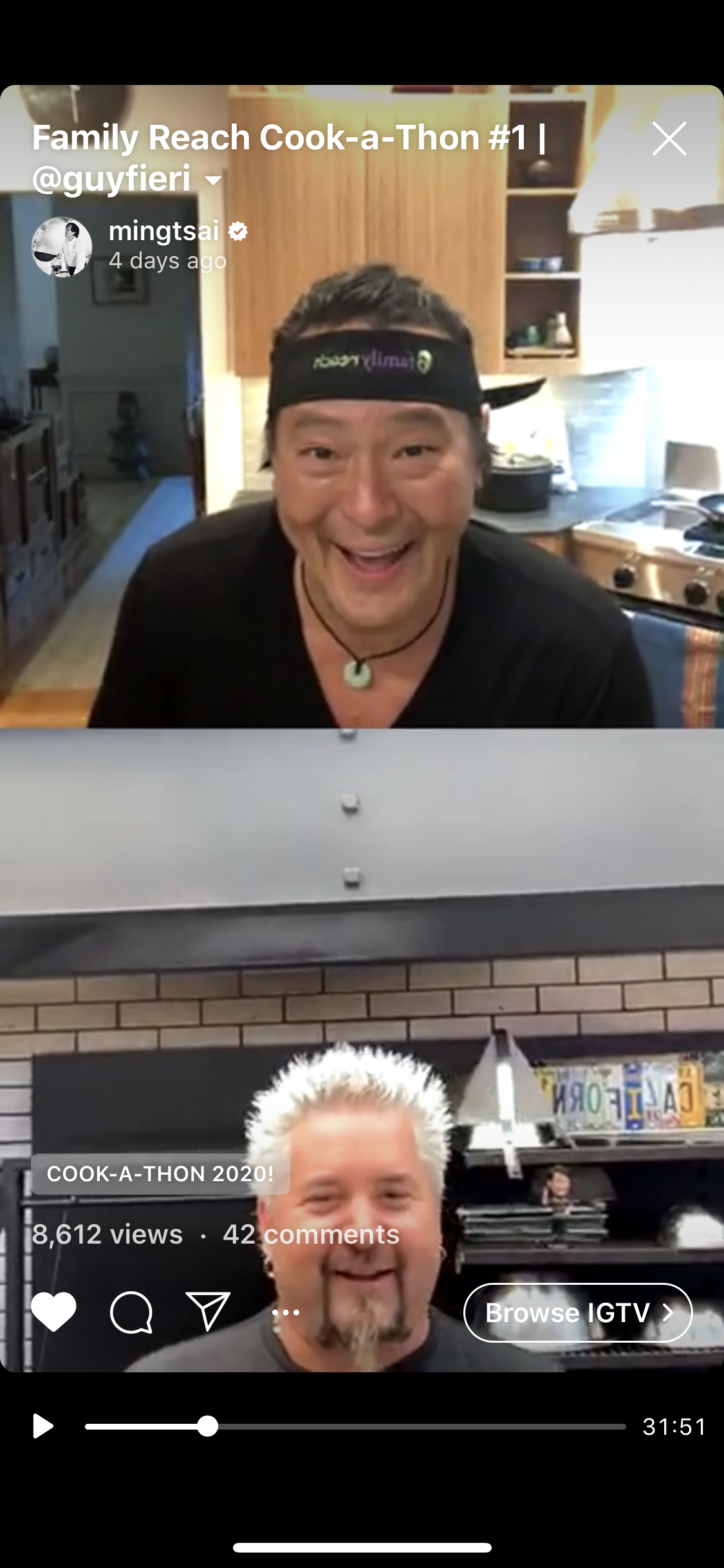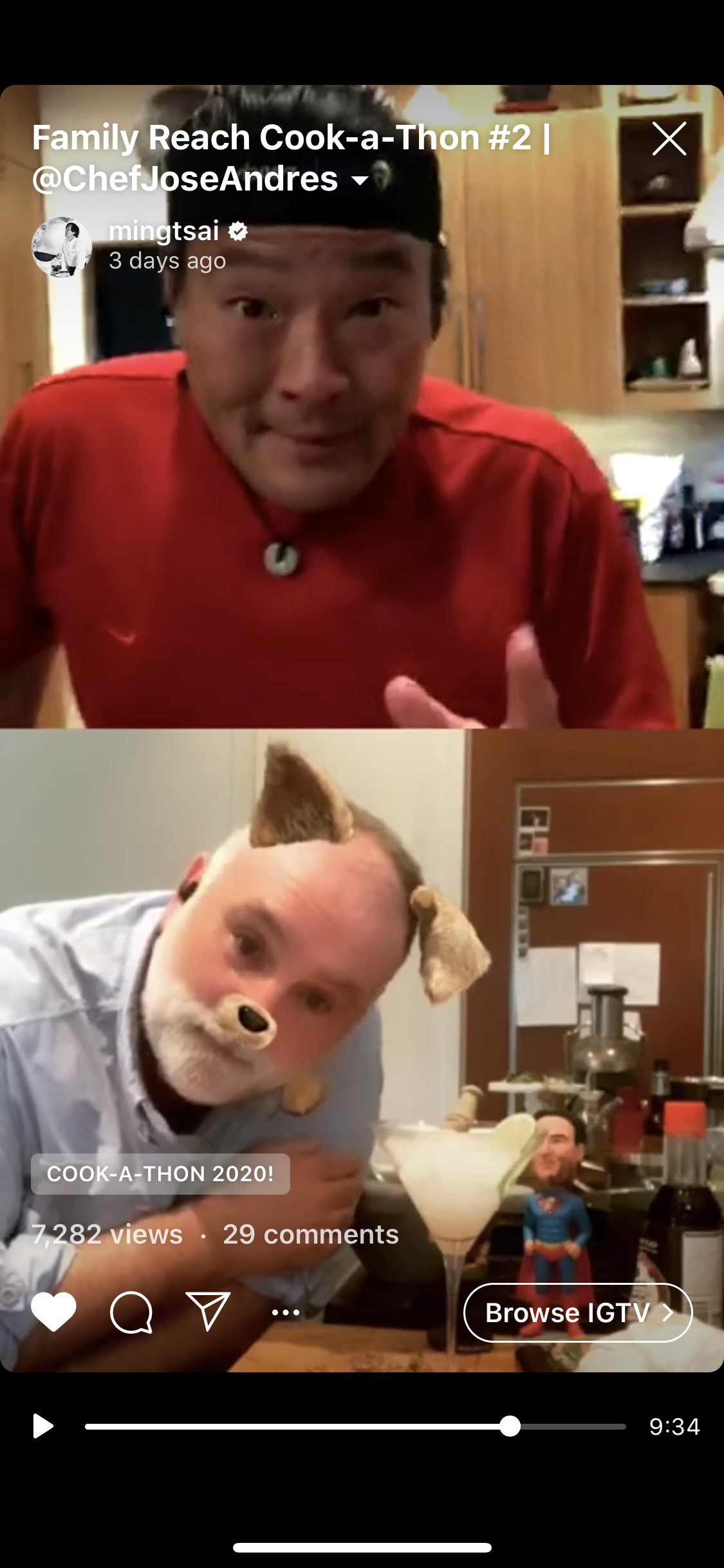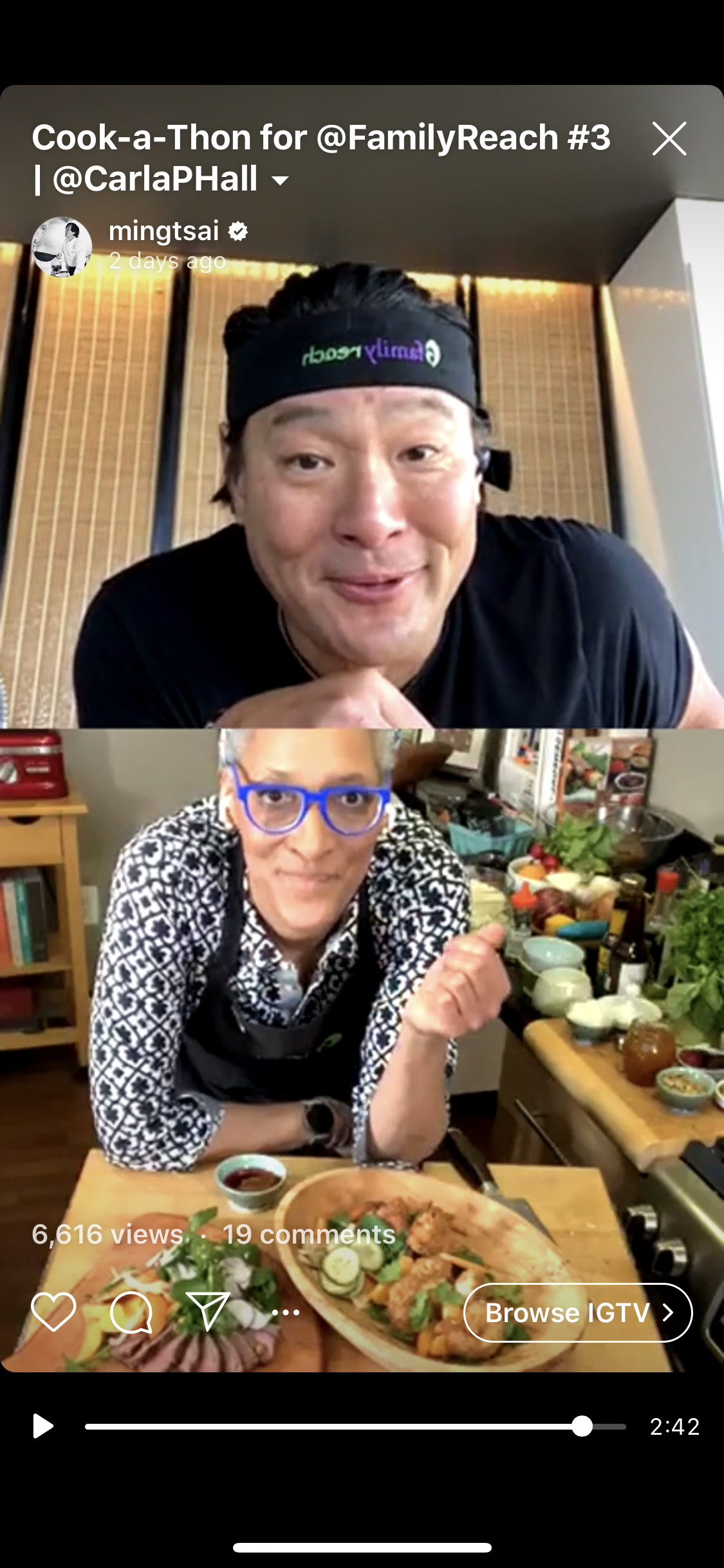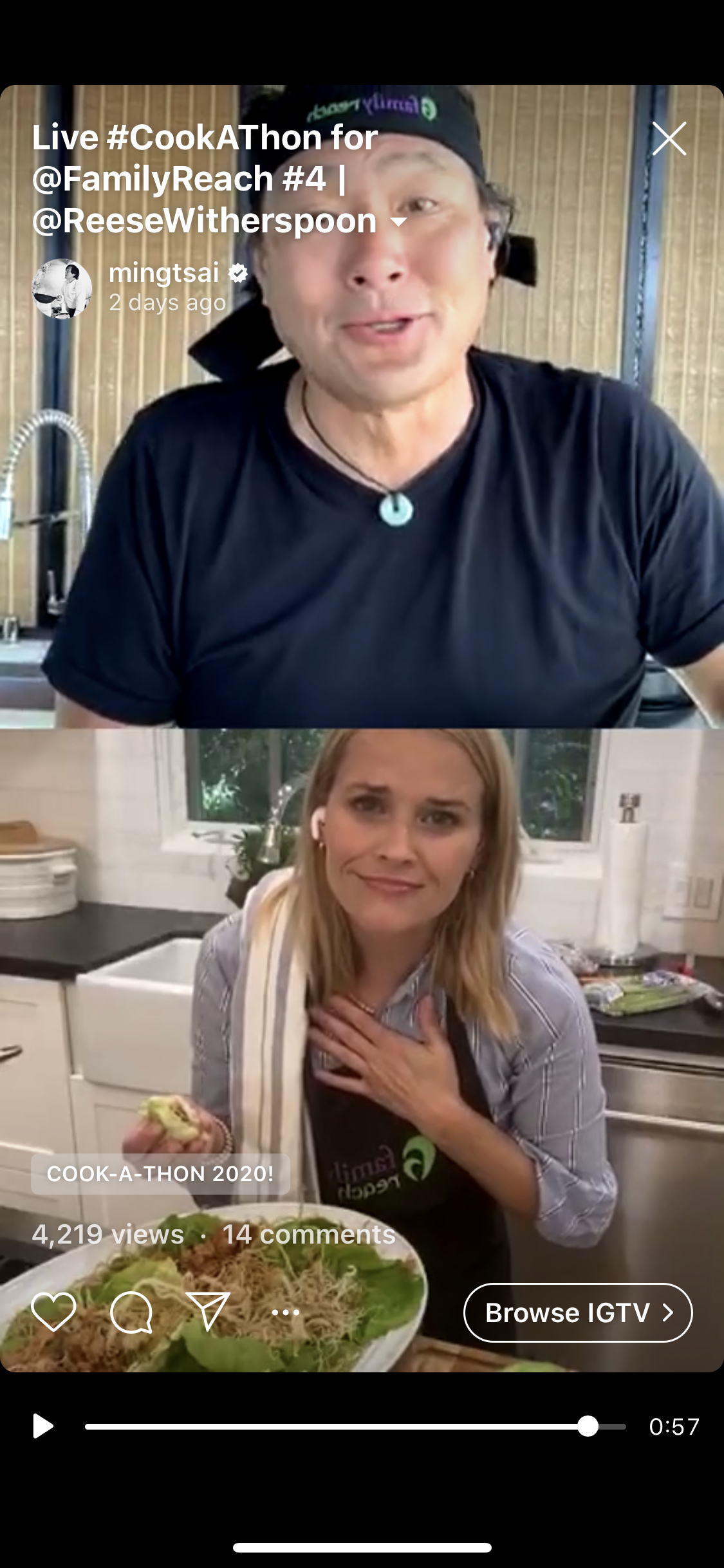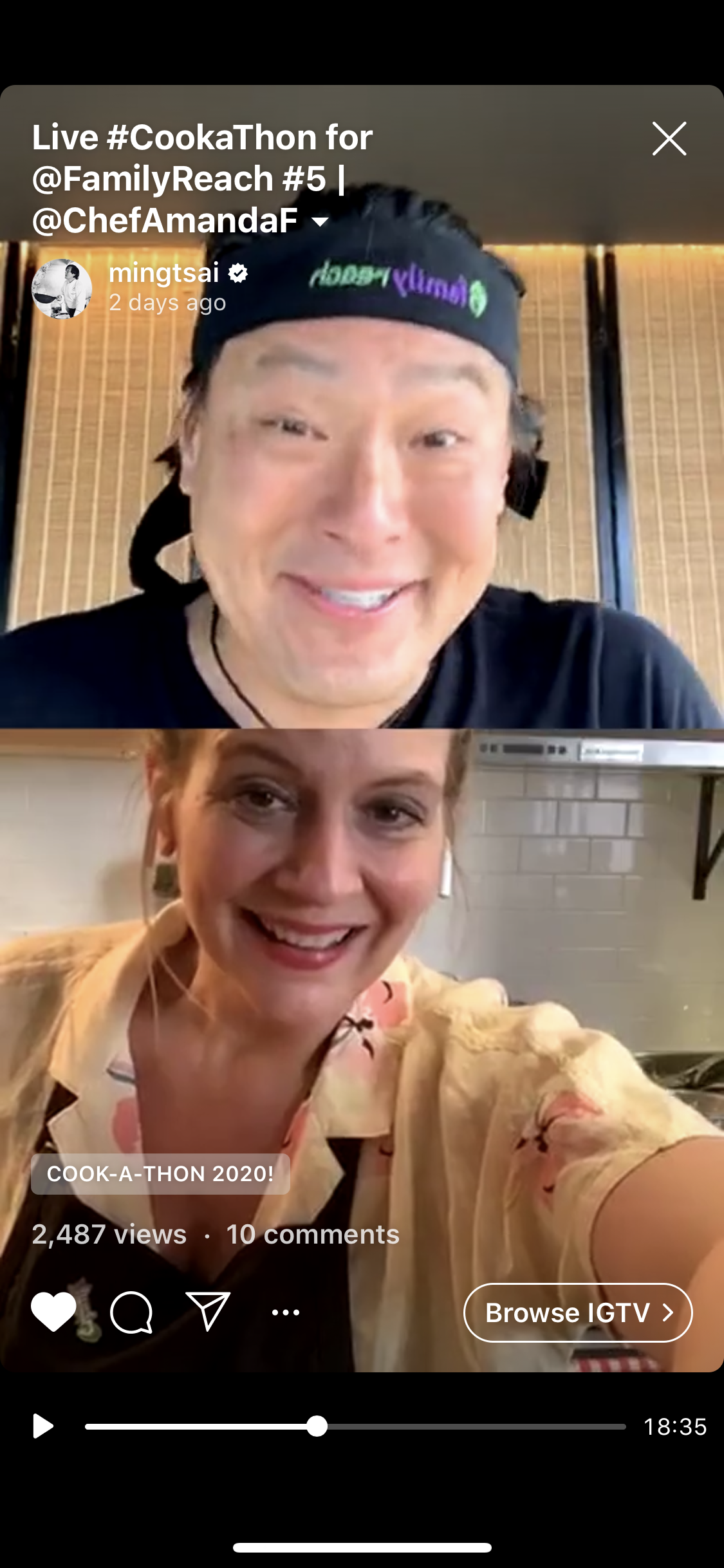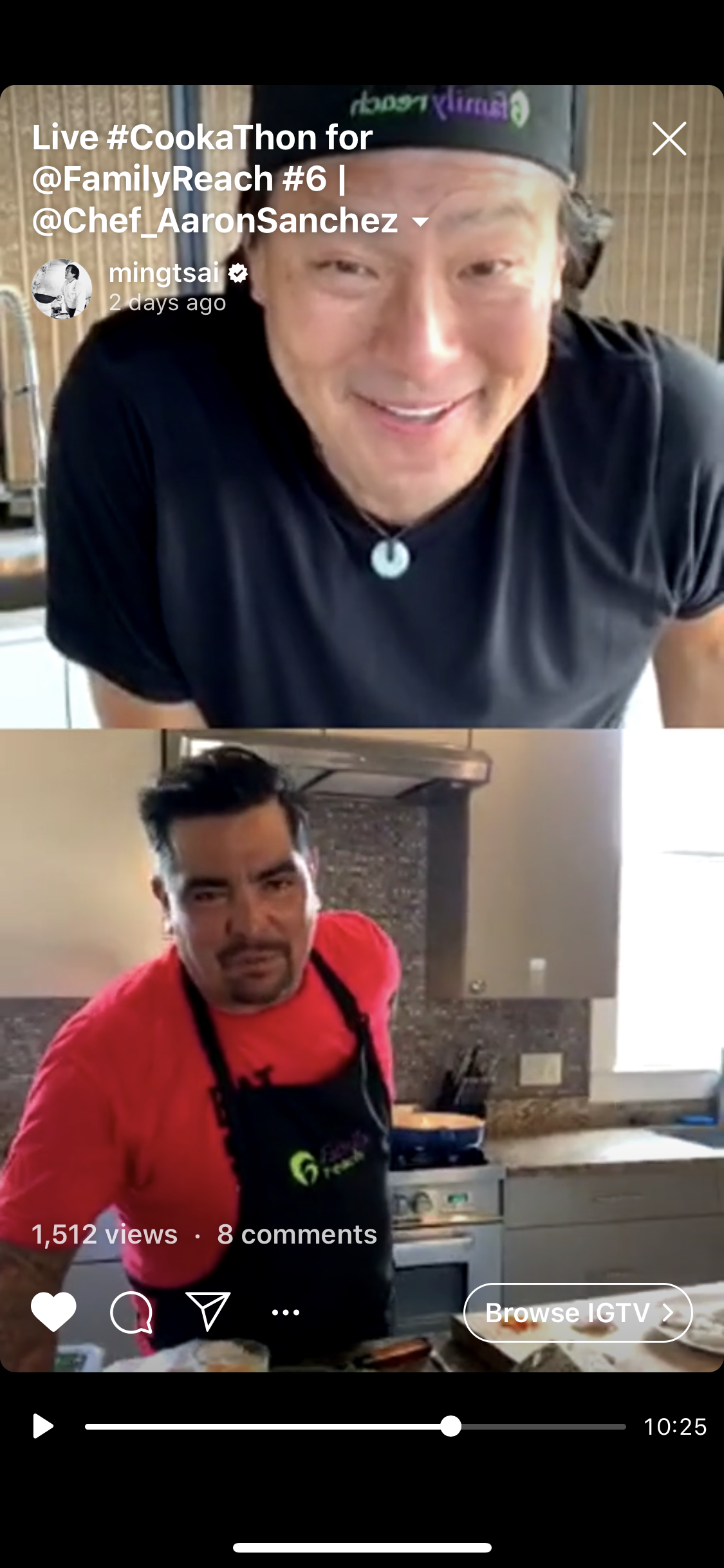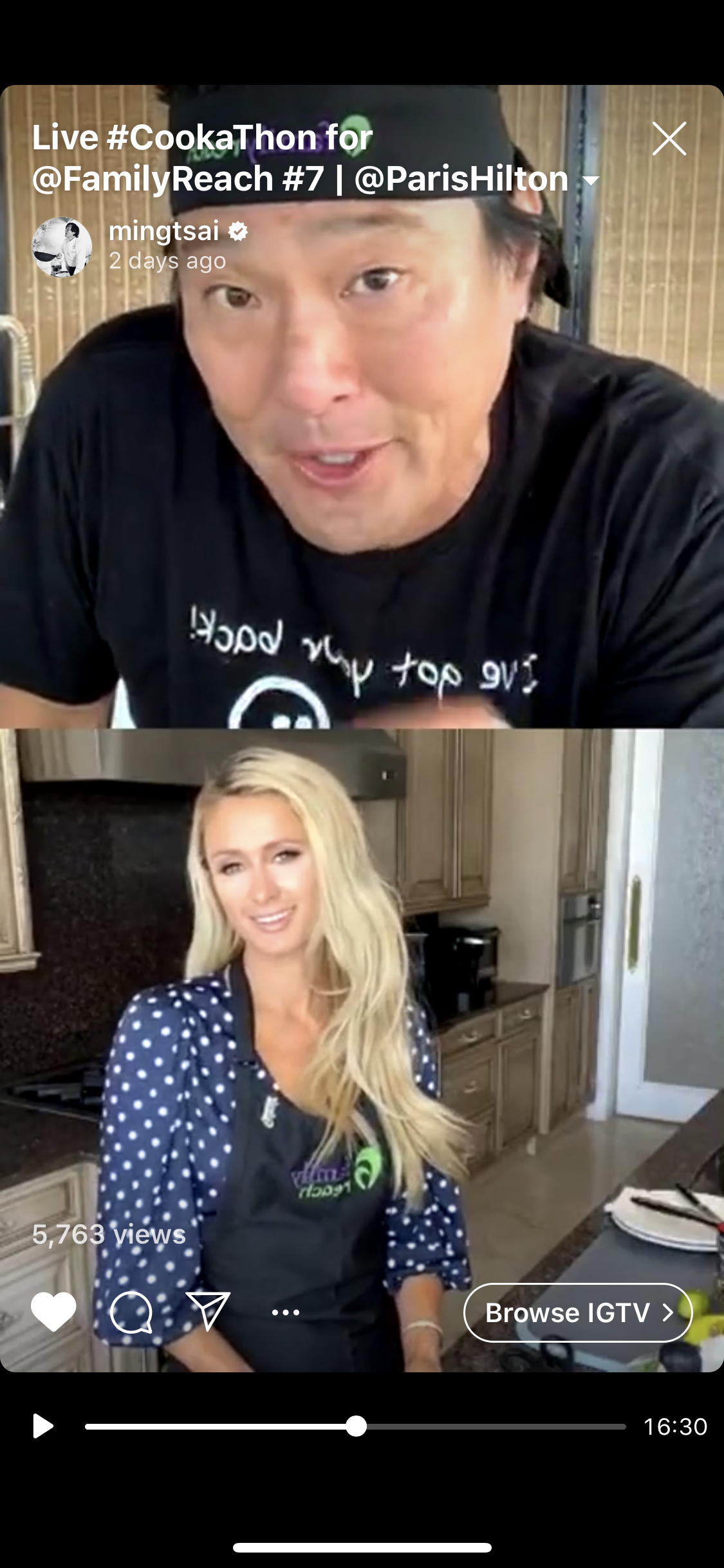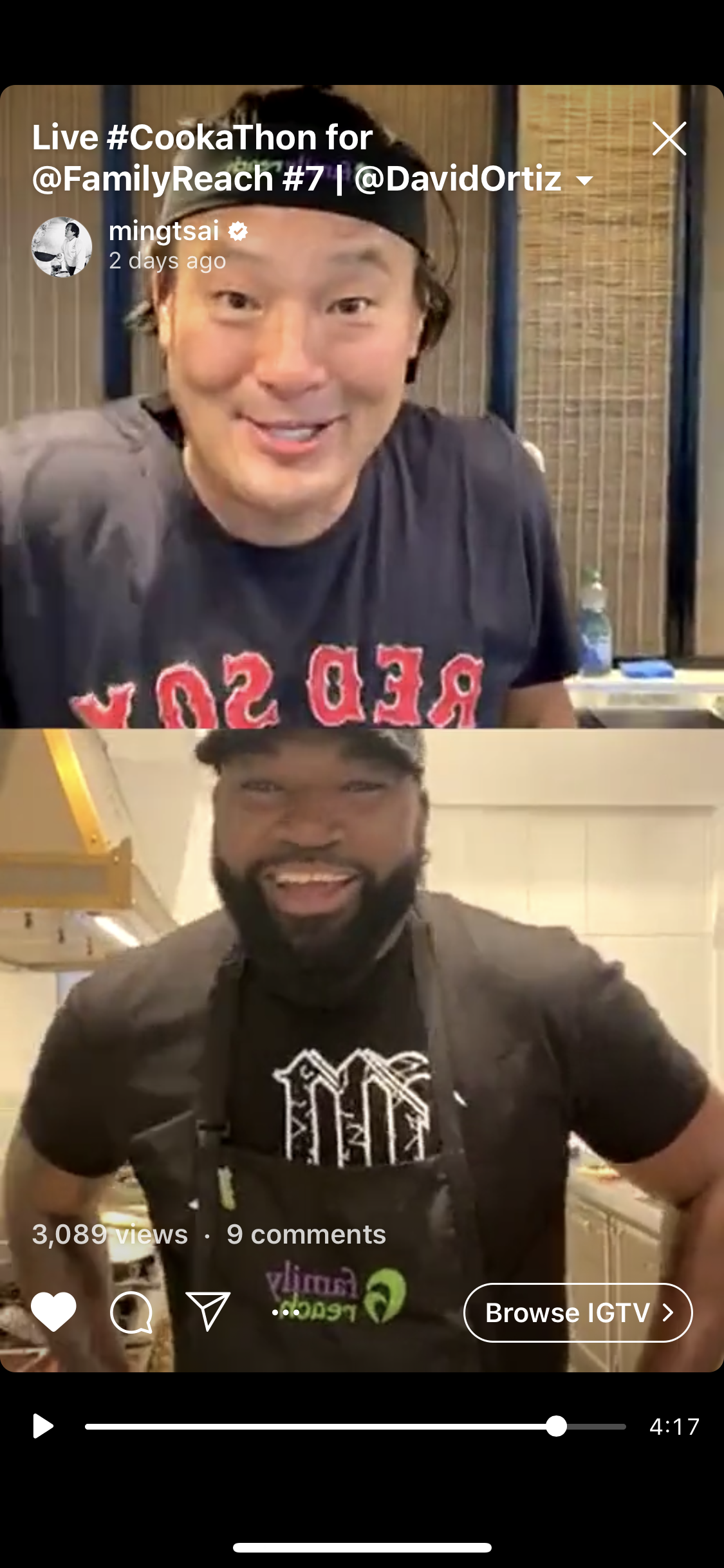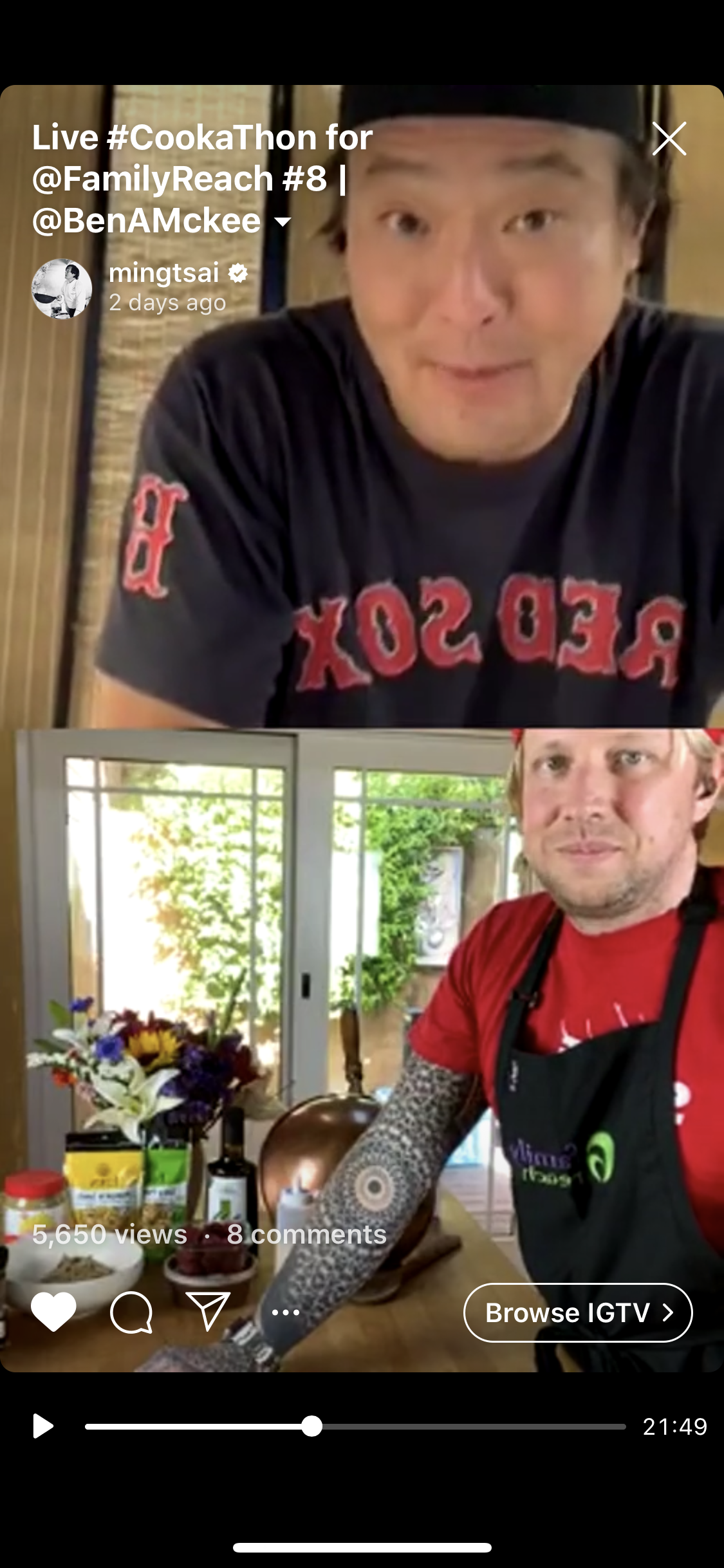 During each segment, Family Reach CEO Carla Tardif shared more about the deep financial needs cancer patients are experiencing during COVID-19. Families facing cancer already deal with unimaginable obstacles – such as paying for treatment and daily essentials, while overcoming the disease itself. And now, because of the pandemic, they're experiencing double – if not triple – the hardships.

Many of the featured guests, such as Amanda Freitag and Carla Hall, have supported Family Reach before and stood by our mission over the years. They know our families are at the core of everything we do, which is why they were thrilled to see so many featured during the event including: Bennet, Domonic, Johnny, Renee, Mars, Kaliegha, Paisley, and Camille.

"When I was with you guys at the Cooking Live fundraiser in person, I was moved to tears to see all the families. It's just so much love," shared Amanda Freitag. "Everybody has been touched by somebody who has suffered with cancer and been financially ruined by it. And what Family Reach does is change people's lives and I'm so happy to be a part of it."

Together, and thanks to generous segment sponsors Be Bold Bars and PRVT, this virtual event raised more than $454,321!
On top of raising critical funds, the Cooking Live Cook-a-Thon spread awareness for families and let them know we're here to help. More importantly, that they're not alone.
"I want to say thank you to Ming for bringing Family Reach to my attention. To all the families that are dealing with cancer, my heart goes out to you," shared Reese Witherspoon. "My family and I are praying for you, and we are just so happy we were able to give you a little bit of joy and hopefully raise your spirits. You guys are amazing!"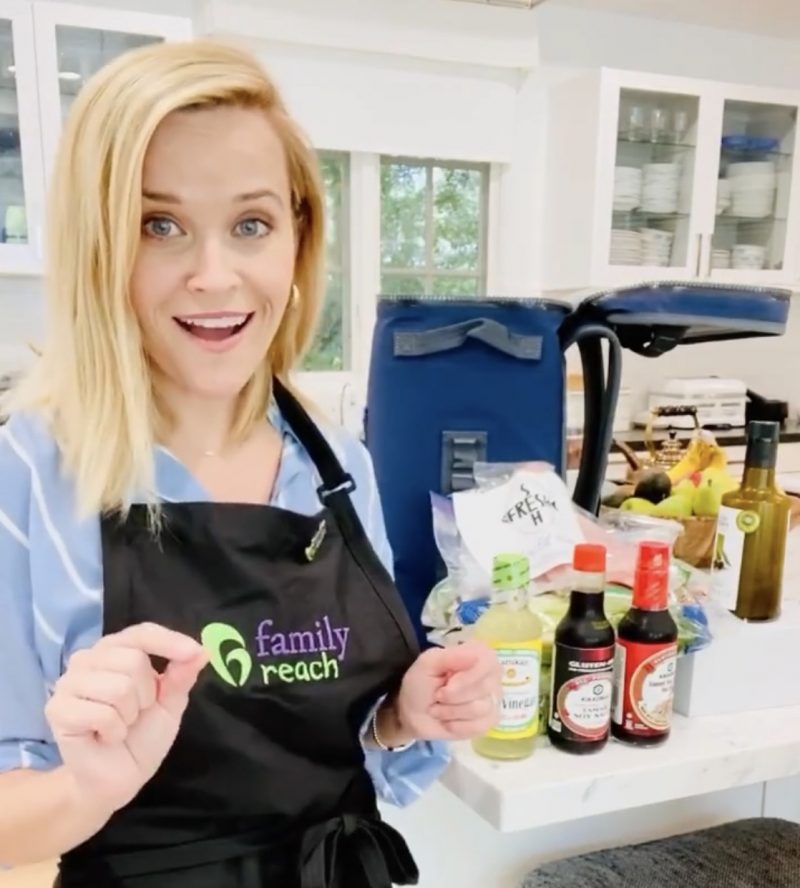 Even more, media coverage from PureWow, Yahoo Life, Patch, NBC Boston, and others is allowing us to reach more families nationwide.
Filled with gratitude 
To the featured guests and families who bravely shared their stories, a heartfelt thank you goes out to you for making this event possible. Coming together in this way showed that kindness and compassion for others can drive success even in the face of uncertainty.
One of my favorite parts was knowing that so many of our families were watching and part of the action, including Renee. She is a 36-year-old single mom from California who has made it the other side of cancer twice.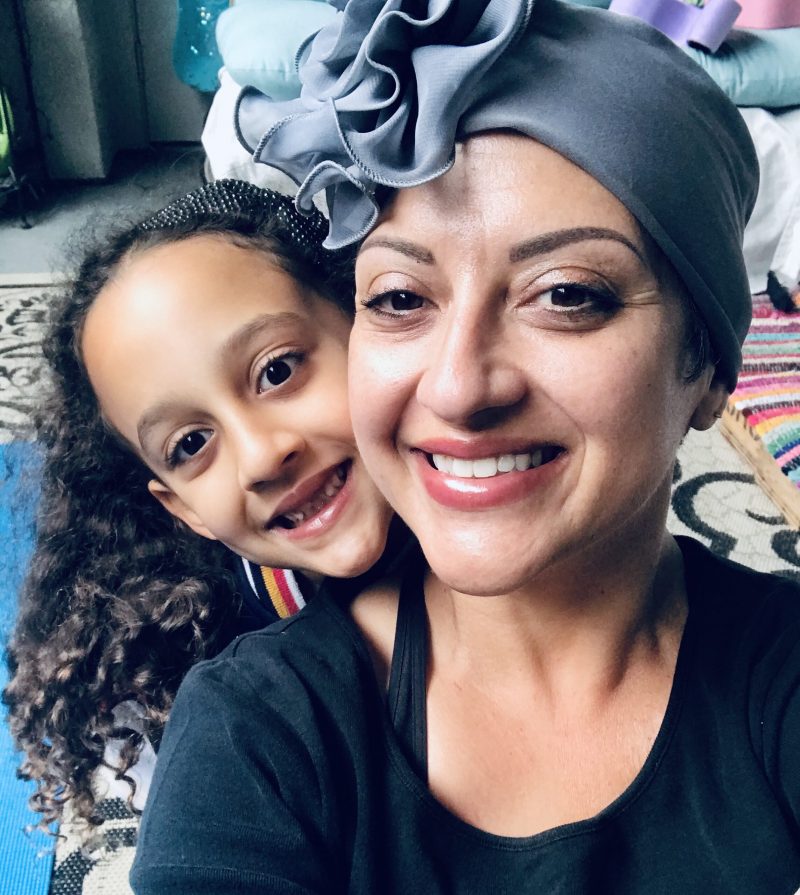 Renee shared, "This was the best day to celebrate surviving cancer and fighting back with compassion and cooking! You guys have forever changed how I feel about this fight and I'm so eternally thankful! Anything you guys need – I'm ALL IN!! Love you guys!"
Join the Cooking Live party  
The virtual event may be over, but the impact will be long lasting. The funds and awareness raised from the event will help us reach cancer patients with support, especially during a time when they're experiencing new challenges like paying expensive delivery fees to avoid grocery stores and supporting their families with little to no income.
If you missed any of the featured guests, you can check out all of the videos on Chef Ming's Instagram. And if you didn't have the chance to donate – it's not too late! Click here to give and learn more about our innovative financial solutions that combat financial barriers head-on.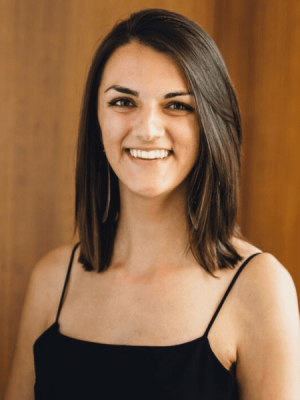 Senior Marketing Manager • Family Reach Staff
As Senior Marketing Manager at Family Reach, Autumn ensures brand consistency and oversees all digital marketing campaigns, social media strategy, and influencer relationships. She believes in authentic living, and a combination of hard work and magical thinking.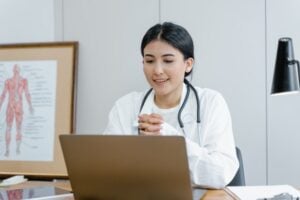 Healthcare professionals like hospital social workers, oncology nurses, and doctors can help bring cost conversations to the forefront of cancer treatment.
Read More »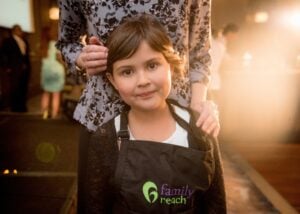 Larissa shares about her daughter's pediatric cancer experience and encourages caregivers to remember their own health and well-being.
Read More »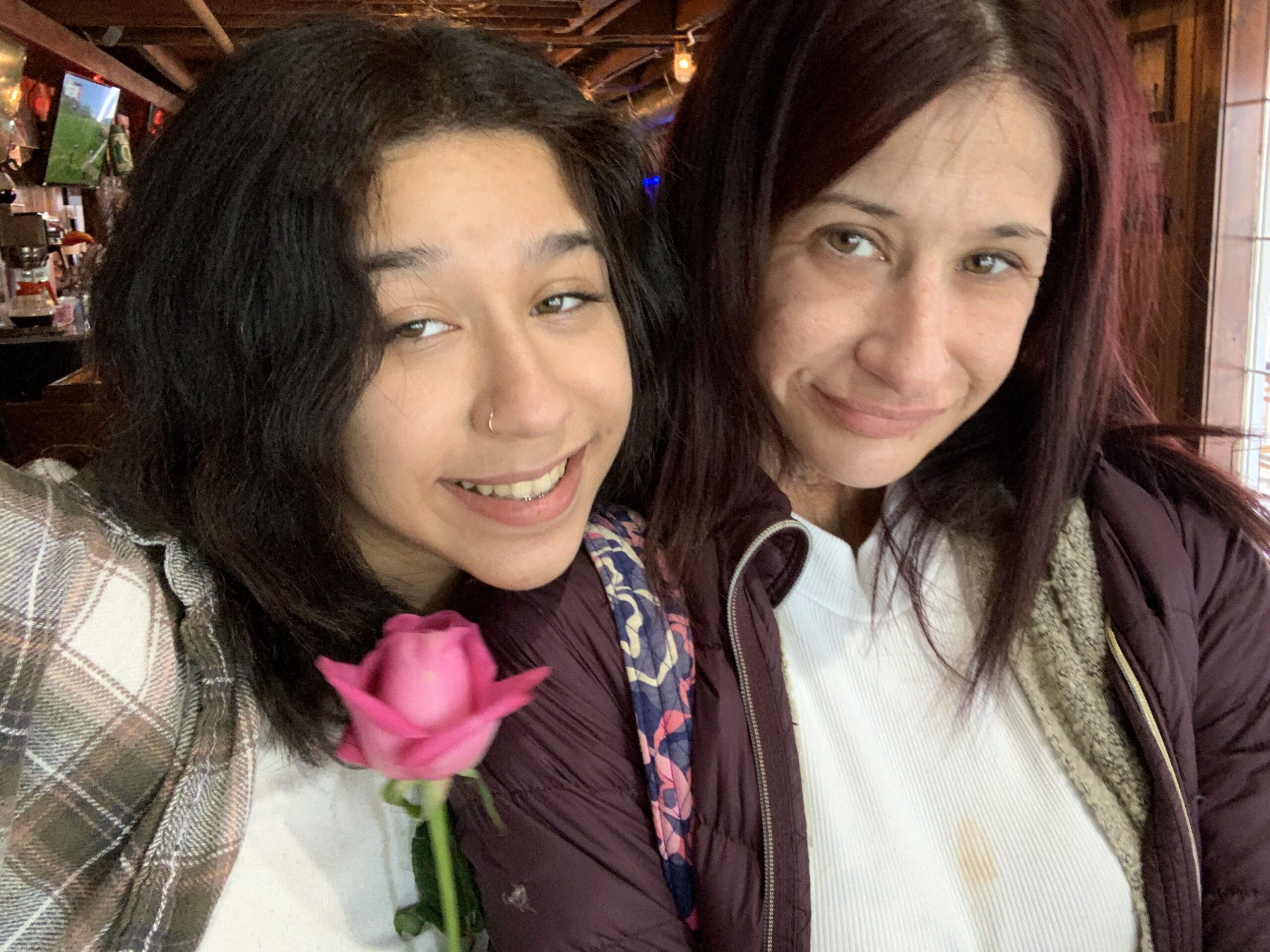 Family Reach addresses food insecurity among cancer patients with help from partners like Takeda, Freshly, Splendid Spoon, Alberton's, and B&W Growers.
Read More »