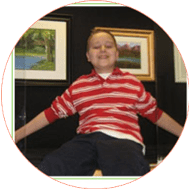 Finding strength through art
Name: Piotr
Age at diagnosis: 7 years
Diagnosis: Acute lymphoblastic leukemia
How Family Reach helped: Grants to pay the mortgage, grocery expenses, and prescription co-pays
In 2002, Piotr Kolodziej was a normal 7-year-old who loved to swim, spend time with friends, ride his bike, and play soccer and basketball. But just a month before Piotr's 8th birthday, his life changed when he was diagnosed with acute lymphoblastic leukemia. Piotr entered a treatment program at Dana-Farber/Boston Children's Cancer and Blood Disorders Center in Boston. The first rounds of treatment were successful, and Piotr enjoyed 2 years of remission. Unfortunately, the cancer relapsed in July 2006, forcing him to return routinely to the hospital.
While in treatment, Piotr grew tired of watching TV and discovered painting as a creative outlet. Inspired by his love for the outdoors and pictures he had seen of beautiful landscapes, he started painting images of nature. Soon, this pastime developed into a real passion, as Piotr poured the energy he once spent playing sports outside into his new artistic outlet. Painting and experimenting with colors became extremely therapeutic for Piotr.
Piotr's mother, Helena, tried to spend as much time as possible with her son throughout his treatment. To help make this possible, Family Reach provided grants to cover some of the Kolodziej family's basic necessities, including mortgage payments, grocery expenses, prescription co-pays, and more.
Though it started as just a hobby, Piotr's painting unearthed a tremendous talent. In April 2008, Dana-Farber held an art opening to showcase Piotr's recent works to his friends, family, and caretakers at the hospital—his first public exhibit! Piotr completed his last treatment protocol in 2008, but he has no plans to stop painting any time soon. Many of his paintings have been auctioned at Family Reach events to benefit other Family Reach families. Piotr says, "Mixing colors, using different brushes, and having a chance to be creative has been a lot of fun and very relaxing for me. The best part about it, though, is knowing that my art might not only be helping me, but helping other kids like me and their families, too."
Today, Piotr is a vibrant college student, hoping to prepare for a career in medicine so he can help others on their own journeys to recovery.
Last update: July 31, 2014