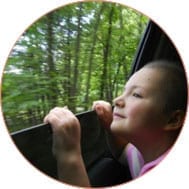 Always thinking of others
Name: Becca
Age at diagnosis: 5 years
Diagnosis: Acute lymphoblastic leukemia
How Family Reach helped: Grants to assist with utilities and mortgage payments
At 5 years old, Becca Sampson had already experienced much more than the average child. She grew up helping her family care for her grandfather, who waged a 14-year battle against cancer. Shortly after her grandfather passed away, Becca and her family were faced with another shocking challenge. Following bloody noses, stomach aches, and hip pain, Becca was diagnosed with acute lymphoblastic leukemia.
Amidst other family struggles, Becca's parents, Kim and Glen, found themselves under tremendous financial, physical, and emotional stress following her diagnosis. Glen continued to work as much as possible, while Kim stayed by Becca's side to help her through her treatment. Expenses continued to rise, putting Kim and Glen in a financially tenuous situation. As Kim explained, "When you lose your job, there are food stamps and other resources, but when you have a kid with cancer and are working your hardest to keep it all together, you are kind of stuck in the middle." A social worker at Dana-Farber Cancer Institute put the family in touch with Family Reach, which provided a grant to cover utilities and mortgage payments.
Throughout their many trials, Kim, Glen, Becca, and her brother, Timmy, have stood by one another. They remain close and enjoy biking, hiking, walking, and swimming together when Becca feels up to it. The support from Family Reach has helped Kim and Glen continue to provide a safe and stable environment for both Becca and Timmy. Becca is a hard worker and a strong fighter; she looks forward to continue pursuing her love of art, music, and outdoor activities. This incredible little girl continues thinking of others, even at the toughest of times, and dreams of growing up to become a nurse.
Last update: July 31, 2014