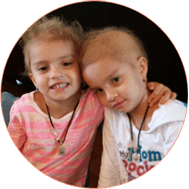 Pulling together for twins
Names: Ashley and Samantha
Ages at diagnosis: 3 years
Diagnosis: Acute myeloid leukemia
How Family Reach helped: Grant for rent and gas cards
While on a family vacation with their 3-year-old twins, Ashley and Samantha, Michael and Monique Housel noticed that Ashley's abdomen and leg were swollen. They initially thought she had a bug bite. Yet, after a hospital visit and further testing, Ashley was diagnosed with a rare form of acute myeloid leukemia, a type of blood cancer that starts inside the bone marrow. Due to this, Ashley had developed a tumor that was suffocating her kidney. One week later, the family noticed similar symptoms in Samantha. After further testing, Samantha received the same diagnosis as her twin, acute myeloid leukemia.
The twins immediately began treatment at St. Mary's Hospital, near their home in Jupiter, Florida. Soon Michael and Monique learned the girls needed more specialized care and transferred them to Miami Children's Hospital, close to 2 hours away, where they were admitted for 2 months.
During their treatment, Monique stayed at the hospital with the girls, while Michael remained at home with their 2 older boys and continued to support the family. Michael owns a dance studio and works as a full-time dance instructor. As he modified his schedule to accommodate their family crisis, he lost several clients who couldn't adjust. The loss of income coupled with travel expenses caused tremendous stress. "Each time we drive to Miami, we have to fill the tank for $60," said Michael. "Over and over. Eventually, we just didn't know how we were going to pay."
Fortunately, the family learned about Family Reach. "They immediately helped us," said Michael. "They were awesome! They have given us gas cards and paid our rent for a month, which is giving us the ability to pay our insurance. It is a tremendous relief. It helps us breathe again."
Their family continues to have a long road ahead as Ashley and Samantha battle their illnesses and get well, but they are both responding well to their treatment and are looking forward to going back to being fun-loving children.
Last update: July 31, 2014