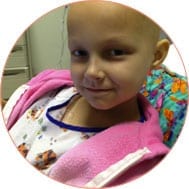 Lighting up the room
Name: Weronika
Age at diagnosis: 8 years
Diagnosis: Acute lymphoblastic leukemia
How Family Reach helped: Grant for car insurance and car payments
At 8 years old, Weronika was diagnosed with acute lymphoblastic leukemia. She spent much of the past year in and out of Lurie Children's Hospital, managing the disease and receiving frequent transfusions.
After a month of balancing work and taking care of her daughter, Weronika's mom, Kateryna, had to quit her part-time job. Weronika's dad also altered his work schedule to care for her 2 brothers. This drastic change in their job routine severely affected their income. Knowing about their financial stress, the family's social worker at Lurie Children's Hospital connected them with Family Reach, which provided a grant to cover their car insurance and car payment, providing some relief for this courageous family. "For me as a cancer parent, it didn't only mean [Family Reach] paid the bills," Kateryna said. "It was the feeling that people cared, that you were not alone in the fight."
Weronika attended "Cooking Live!" Chicago in May 2014 with her family, and her smile lit up every room she entered. She had a blast helping the chefs prepare meals for the guests, and even hosted a Q&A session, passing the microphone from guest to guest like a TV hostess—she was a natural. Her beauty emanates from within, and her family can't wait to see where her bright future takes her.
Last update: August 1, 2014