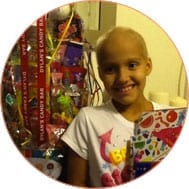 A new routine
Name: Valentina
Age at diagnosis: 9 years
Diagnosis: Ewing's sarcoma
How Family Reach helped: Grant to help cover rent and car insurance
At 9 years old, Valentina Perez found out she had Ewing's sarcoma. "I never want to have that feeling again," said Valentina's mother, Adrianna. "It was devastating."
As soon as they could set the initial shock aside, Valentina's family immediately turned their focus to her well-being. Adrianna had to leave her job so that she could take Valentina to medical appointments.
"In the beginning, we were only worried about getting her the best care," Adrianna said. "We followed the doctors' orders and didn't worry about our finances." Before they knew it, the family's routine had changed completely. Marco, Valentina's father, continued to work but used all his allotted vacation time in order to be with his family. It wasn't long before he started taking days off with no pay to spend time with Valentina. After a few months, medical expenses were mounting and the family began to fall behind on their bills. The social worker from Memorial Sloan-Kettering Cancer Center became aware of their difficult financial situation and referred them to Family Reach. At risk of losing their home and car, Adrianna and Marco were immensely relieved when Family Reach stepped in with a grant to cover their rent and car insurance. "The grant allowed us to pay our bills and have extra money to celebrate a special Christmas with our daughters," Adrianna said.
Although Valentina continues her fight with cancer, she is always smiling and loves to make people laugh.
Last update: August 1, 2014