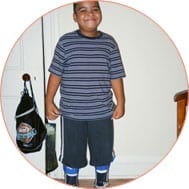 Long road to recovery
Name: Nicholas Modestin
Age at diagnosis: 2 years
Diagnosis: Acute lymphoblastic leukemia
How Family Reach helped: Grants to cover monthly rent payment and a security deposit
At just 2 years old, Nicholas Modestin was diagnosed with acute lymphoblastic leukemia, a common form of childhood cancer. "It's just stuff that happens and nobody can know why it happens," said Felix Modestin when the family received the devastating diagnosis.
"At the beginning of treatment, that's when you go to the hospital a lot. You go day, after day, after day," said Felix. "The most important thing that helped us as parents while Nicholas was in the Brooklyn Hospital Center for a month was his strength and his willingness to beat his cancer. With all the medications, injections, and 2 surgeries, he always had a smile and an upbeat attitude." Even when Nicholas developed acute leukoencephalopathy, a rare side effect of treatment, his outlook remained positive. Leukoencephalopathy causes severe muscle weakness, leaving Nicholas unable to stand or walk for several months. "I never knew it was going to be so devastating to see my own kid that bad…We had to drive 4 days a week back and forth to the hospital for chemotherapy and rehab. He was just solid as a rock," Felix described sadly.
During Nicholas' treatment, the Modestin family faced tremendous financial strain. Felix had previously been laid off from a full-time position and was working multiple part-time and freelance jobs to make ends meet. With Nicholas sick, Adriana also had to quit her job to care for him. This forced the family to decide "What's important? What's not important?" Family Reach provided relief by assisting with a monthly rent payment. "We were ecstatic and happy (to receive the grant)," said Felix. Additionally, Family Reach later provided a grant for a security deposit to help the family secure a more affordable place to live.
Nicholas has since learned to walk again, thanks to a strict regimen of physical and occupational therapy and the support of his parents. His strong family has been able to stay positive and move forward to the point of recovery. Nicholas is now back in school, has completed treatment, and is doing very well. He continues to share his contagious smile at local Family Reach events.
Last update: September 19, 2014