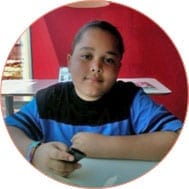 Never give up hope
Name: Josued
Age at diagnosis: 8 years
Diagnosis: Acute lymphoblastic leukemia
How Family Reach helped: Grants for rent, utilities, and a new bed
In 2005, 8-year-old Josued Disla was diagnosed with acute lymphoblastic leukemia, a common form of childhood cancer. Years later, Josued has recently completed treatment following a second relapse of the disease. "I have learned a lot…seeing how cancer has been destroying so many families. We're one of the fortunate ones that have been able to keep struggling with it," said Josued's mother, Sujelin.
With virtually no support from extended family, Sujelin and her husband, Juan, cared for Josued and his 2 brothers throughout his many years of treatment. Most days, Juan would drop off Josued's younger brothers at school and then spend the day in Manhattan at Morgan Stanley Children's Hospital of New York Presbyterian (a Family Reach partner hospital). Once or twice a week, Juan stayed with Josued at the hospital while Sujelin would do chores at home, pick up her other children from school, make dinner, and help them with their homework. Afterward, they all went to the hospital to be with Josued.
While Josued was undergoing treatment, his father lost his job. "When Josued was first diagnosed, my husband got fired from his job because he was living with us in the hospital," said Sujelin. "We were going back and forth, spending money that we didn't have and it was very hard… The financial problems have put a real strain on myself and my husband. Even though we try not to show our children what's really going on, the financial stress has been really hard." There were meals at the hospital and mounting auto repair costs to cover. After Josued's dad lost his job a second time, he found work as a handyman, which offered flexibility while also providing the family with some income. During this difficult time, a social worker, Karen Turi, also connected the Disla family with Family Reach, which provided grants for rent, utilities, and a new bed.
Josued is now in remission and doing well. And he has a new baby brother to share that happiness with. "I think this has brought a little joy to Josued. After all of the chemo treatments he has been getting, he's very happy to be with his little brother and is very overprotective of him. I think this was a plan of God to bring some joy to the family after all that we have been through," said Sujelin. In addition to caring for his new brother, Josued likes to cook and hopes to become a chef when he is older. Like his parents, he wants to help other children and families who are going through what he went through.
Last update: July 31, 2014