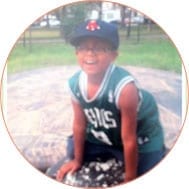 I have cancer, but cancer doesn't have me
Name: Jayden
Age at diagnosis: 5 months
Diagnosis: Brain tumor
How Family Reach helped: Grant to pay the mortgage
Steven 'Jayden' Dalton III was born on January 3, 2003. At just 5 months old, he developed a bulging right eye and could not focus properly. A CT scan and an MRI at Boston Children's Hospital revealed a brain tumor that affected his right eye muscle and vision. Jayden began chemotherapy right away.
Jayden continued the first chemotherapy regimen—the first of many rounds of chemotherapy—for a year. During this time, his doctors also discovered the tumor had caused significant damage to his optic nerve, causing blindness in his right eye. When paying for 5 different chemotherapy regimens over 10 years financially strained the Daltons, Family Reach offered a grant to help with their mortgage.
Jayden's optimism has helped the whole family through even the toughest days. His family reports, "Throughout this whole ordeal, he always had a smile on his face and kept a positive outlook. He's always looking to please, even when he's not feeling well. Since a very young age, Jayden has had the ability to affect so many people. His courage, strength, will, compassion for others, and overall personality are truly inspirational and remarkable."
As Jayden says, "I have cancer, but cancer does not have me." Jayden is determined that cancer will not define him or his life. Jayden is now back in school. He enjoys spending time with his brother and sisters, playing video games, and watching and attending sporting events. He is always smiling for the camera.
Last update: July 31, 2014