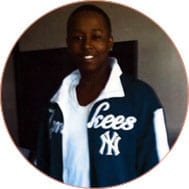 A Yankee fan in Philly
Name: Jacob
Age at diagnosis: 16 years
Diagnosis: Stage 4A Hodgkin lymphoma
How Family Reach helped: Grants to cover rent for 2 months
In 2009, Audrey Thompson and her husband, Dwayne, made a big decision. After 37 years of living in Bronx, NY, they moved nearly 200 miles away to Pennsylvania to be closer to Audrey's ailing father. After registering their 3 children—Jacob, Jiana, and Joshua—for school, Audrey took them for the requisite medical checkups. During Jacob's checkup, the doctor expressed concern about a gland near Jacob's chest. The Thompsons were sent to The Children's Hospital of Pennsylvania (CHOP), where Jacob underwent a barrage of tests, scans, and a biopsy. One month later, he was diagnosed with Stage 4A Hodgkin lymphoma throughout his spleen, hips, lower spine, and left chest. Because Jacob's lymph nodes were affected, removing the cancer was not an option. Instead, Jacob began an aggressive schedule of chemotherapy and radiation to treat the lymphoma.
Audrey took a leave of absence from her new job to be with her son during the grueling treatments. Audrey's husband had no choice but to stay in New York City in order to provide for the family. This meant that Dwayne couldn't be close to his son during treatment or help Audrey with the day-to-day needs of caring for Jacob and their other children. Soon, the bills started to pile up—from the monthly rent to the gas and parking from frequent trips to the hospital. "There were days where we weren't sure we'd have enough money to get a snack in the hospital cafeteria," explained Audrey. "Our everyday expenses were becoming overwhelming. Being so new to the area, we didn't have enough of a history with our landlord or any of our local service providers to be able to negotiate any alternatives." Audrey soon asked a social worker at CHOP if there were any programs available for financial support and was introduced to Family Reach. Family Reach acted quickly, immediately covering Audrey's rent for the next 2 months. "They just came right in and helped—no questions asked," said Audrey. "Family Reach took the financial stress completely off our minds so we could focus on what was most important: Getting Jacob healthy."
Always the optimist, Jacob dealt with his time in the hospital with humor and maturity. As a lifelong Yankee fan, Jacob often joked with the staff at CHOP, who were die-hard supporters of the local Phillies team. Thankfully, his cancer was recently declared to be in remission and Jacob has begun weekly physical and occupational therapy to address nerve damage caused by treatment. Because he had such high dosages of chemotherapy and radiation in such a short period of time, Jacob will continue to be checked every 3 months for secondary cancers or other possible illnesses.
Though Dwayne remains in New York City in order to better provide for the family, and Audrey is in Pennsylvania to be with her children and father, they are as tight-knit as ever—and forever grateful for the continued support they receive from their friends and family, the staff at CHOP, and Family Reach.
Last update: October 27, 2014