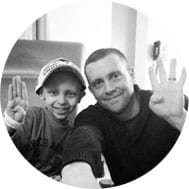 Rusty Bilodeau
Boston Marathon Runner 2015
Rusty Bilodeau is a glass-half-full kind of guy. He came to us with his good friend, Jason Buelow, to raise money for Family Reach and run the Boston Marathon, but what has kept him pushing through his 18-mile training runs is a little boy named Michael. "Mikey," as Rusty calls him, is a 7-year-old with three siblings and two loving parents, and in May 2014, the family discovered Mikey had cancer: a high-risk metastatic medulloblastoma. The family has spent countless hours focused on Mikey's intensive in- and out-patient treatment, and Rusty has dedicated his fundraising efforts and training to Mikey's family and many others like his.
"I have been blessed over the years with a healthy family and live an active life," Rusty said. "I do not take this for granted. In an instant, it can all change." We have had a blast watching Rusty's progress and are proud to call him a Reach Athlete.
Follow his fundraising efforts through his Facebook group, Rusty's Family Reach Boston Marathon.