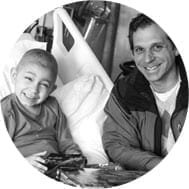 Jason Buelow
Boston Marathon runner 2015
Jason Buelow discovered the Family Reach mission through former Director of Development, Dianne Lynch, in December 2014. It was the first time he fully realized the serious financial burden that families with cancer are dealing with on their own, and when Dianne told him of the opportunity to run the Boston Marathon and fundraise for Family Reach, he dove in.
In the 2015 Boston Marathon, Jason is running for Ottavio, a 6-year-old boy with medulloblastoma. The pair had the pleasure of meeting each other while Ottavio was visiting the hospital for a routine checkup, and they got to talk about all of their favorite things. Training and fundraising took on a whole new meaning after that visit.
With a goal of raising $35,000, Jason is an ambitious, fearless Reach Athlete whose strength and dedication reminds us a great deal of our brave families like Ottavio's.