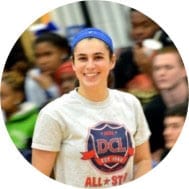 Addie Hurwitz
Boston Marathon runner 2015
Addie Hurwitz is a senior at Bedford High School who takes every challenge head on with a tenacity you don't always see in a 17-year-old. She learned of the Family Reach mission through our Reach Athlete Founder, Kenji Freedman, and jumped at the opportunity to run in the Boston Marathon for families fighting cancer. Her enthusiasm to support was no surprise. According to Meghan Dunbar Proudman, the field hockey head coach at Bedford High School, Addie is one of the most passionate people she's ever met.
"Addie is extremely hardworking at everything," Meghan told The Bedford Minuteman. "Everything she does she puts her all into it, with a lot of heart."
Addie runs the 2015 Boston Marathon for Courtney, an inspiring young adult who recently had her first relapse with lymphoma. She has been enduring the illness since March 2013 and remains one of the toughest, most positive young women on the planet. Addie runs every mile for Courtney and will cross the finish line knowing she helped many families just like hers.