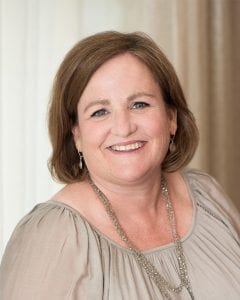 Susan Marshall
Director of Donor Engagement
My role at Family Reach is: Director of Donor Engagement.
Family Reach inspires me because: I am humbled by the strength, courage and hopefulness of the children and families connected to Family Reach. It sounds cliché', but I am truly a better wife, mother and friend since I began working at Family Reach.
The most unusual thing I've done for my job is: I dressed up as a business executive from California and sang a Kelly Clarkson song in front of 500 elementary school students in an effort to get them to sell wrapping paper for a fundraiser.
When I'm not at Family Reach, you can find me: Spending time with my husband, Brian, and my three children, Connor, Shane and EmmaKate.
Most people don't know that I: was adopted as an infant.
If I could spend the day with one person, past or present, it would be: Pope Francis. His unifying message of acceptance, support and love towards all humans has been transformative at a time in history seemingly dominated by hatred, violence and exclusion of others.
One item I'd like to check off my bucket list: Writing the Great American Novel.