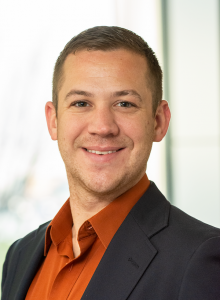 Matt Swingler
Senior Manager of Human Resources
My role at Family Reach is: Senior Manager of Human Resources.
Family Reach inspires me because: I've seen the financial struggles cancer brings a small handful of times in my life. The financial assistance and relief the Family Reach Foundation provides to families is simply amazing.

The most unusual thing I've done for my job is: I moved half way across the country (Indianapolis to Boston) without knowing anyone in Boston.
When I'm not at Family Reach you can find me: If I'm not out with friends or on the couch catching up on various television shows, I'm probably participating in various social sports leagues.
Most people don't know that: In 3rd grade, I won the Presidents bee and the States & Capitals bee on the same day.
If I could spend time with one person, past or present, it would be: Ellen DeGeneres.
One item I'd like to check off my bucket list: Learn how to surf.