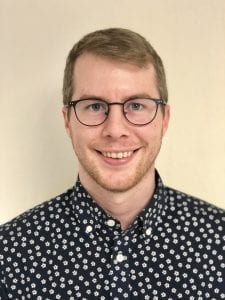 Joseph Sweeney
Senior Accountant
My role at Family Reach is: Senior Accountant, here to support our team and make financial information relevant to their roles available in a timely manner.   
Family Reach inspires me because: I've worked with an array of local and international nonprofits in my career and rarely does an organization make such immediate and long-term impact for families and their loved ones.
The most unusual thing I've done for my job is: While doing a site visit to a refugee camp in Malawi I worked with my organizations team members and community health care workers to help set up their community case management applications. For someone who worked on the financial and contracts side of things this was a bit different from my day to day.
When I'm not at Family Reach you can find me: At a concert or anything music related whether it be recording or strumming along with some friends.
Most people don't know that I: Traveled to Australia as a student ambassador in High School.
If I could spend time with one person, past or present, it would be: My grandfather.
One item I'd like to check off my bucket list: Travel to Japan.