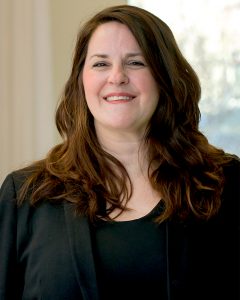 Danielle LaVoie
Senior Manager of Hospital Relations
My role at Family Reach is: Senior Manager of Hospital Relations.  I work with our hospital partners to assist them with utilizing the great resources that Family Reach provides to cancer patients and their families.
Family Reach inspires me because: In over twelve years of working with cancer patients and their families I have seen the impact that cancer has on their lives, especially financially.  I have long been inspired by Family Reach (even before joining the team!) and their incredible mission to provide financial assistance, alleviating the stress that comes with having to make difficult financial choices that shouldn't have to be made.
The most unusual thing I've done for my job is: Acted as a project manager on a renovation, learning many things about buildings, fabric fire codes and so much more that I never thought I would have a reason to learn!
When I'm not at Family Reach you can find me: At home either refinishing old furniture on sunny days or finding the best horror movies on rainy days. 
Most people don't know that: That I had the amazing opportunity to play with four 6 month old lion cubs.  
If I could spend time with one person, past or present, it would be: My brother Bryan who was always the most interesting and loving person in the room.
One item I'd like to check off my bucket list: A cross-country road trip to California and back.