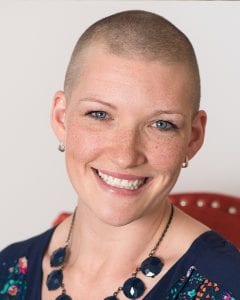 Christina McCarthy
Programs
My role at Family Reach is: Senior Program Manager. I am part of a team that works directly with the social workers at partner and out-of-network hospitals to identify families in need of assistance. I write and review grants for families fighting cancer to relieve some of the financial burden, allowing them to focus on what is important—family.
Family Reach inspires me because: Family Reach inspires me because it gives families hope.  When something as traumatic as childhood cancer strikes a family, this foundation shows that there are compassionate people willing to help.
The most unusual thing I've done for my job is: Shave my head for a fundraiser for kids with cancer.
When I'm not working at Family Reach you can find me: Spending time with friends and family. I am a new mother, and love every moment of my new life. I also enjoy running, reading, and fishing.
Most people don't know that I: Love to cook but hate to follow recipes, which is why I don't bake.
If I could spend the day with one person, past or present, it would be: My late mother-in-law. She lost her battle with cancer back in 2012 and I miss her every day. We loved going to see plays together and bowling with close friends.
One item I would like to check off my bucket list is: Run the Boston Marathon. It is such an inspiring event, and it would be a dream come true to be a part of the incredible energy that surrounds the city of Boston.