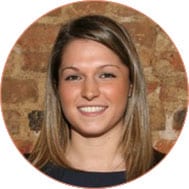 Cassie Taylor
Development and Communications
My role at Family Reach is: Development and Communications Manager, which I've come to realize means "jack-of-all-trades" to manage events, special campaigns and programs, general marketing, graphic design, social media, and whatever other crazy (but awesome) ideas our team comes up with.
Family Reach inspires me because: Our mission is answering a need that would otherwise be unfulfilled. We are helping families when they need it most, and are encouraging systemic and sustainable change to make sure the financial burdens of cancer are eliminated. The power of giving these families a voice, a way to be heard and helped, drives me each and every day.
The most unusual thing I've done for my job is: Run more than 1,500 miles as a Reach Athlete over the last 18 months or so—including the Boston Marathon, twice. When I joined the Family Reach team, I didn't even like running!
When I'm not at Family Reach, you can find me: Well, usually I'm running somewhere! I'm always looking for the next challenge to tackle or outdoor adventure to embark on. I also provide Fitness and Nutrition coaching to the community.
Most people don't know that I: Am a musician—when I have time—and enjoy playing piano, guitar, and the occasional drum set.
If I could spend the day with one person, past or present, it would be: Margaret Mead—who taught the world how important it is to come together and showed that every person has the power to make a profoundly positive impact.
One item I'd like to check off my bucket list: How do I choose just one!? At the top of my list is packing a bag and buying a round-the-world ticket to work, volunteer, and outdoor adventure my way across the continents. A close second is securing a wildcard entry to conquer the infamous Hawaii Ironman.