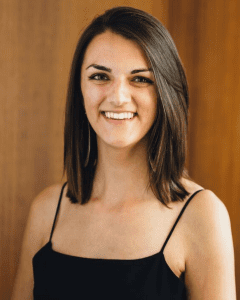 Autumn Dube
Content Manager
My role at Family Reach is: Content Manager on the Marketing team! Every day brings something different. I build engaging content, create marketing campaigns, manage our social media, write relevant blogs, promote and live-share events, and interact with our dedicated community. 
Family Reach inspires me because: They dream big every single day. The team at Family Reach is driven by passion and the desire to do more for those who need it most. It is an incredible feeling to come into work and be surrounded by others who are charismatic, kind and genuine by nature. We're making big things happen, together.
The most unusual thing I've done for my job is: Dressed up in 90's 'punk' attire and competed in a lip-sync battle with my fellows RAs. (ps. my team won!)
When I'm not at Family Reach you can find me: Adventuring around Boston with friends, writing at local coffee shops, visiting my family in Maine, or lounging in my apartment with a good book or Netflix series.
Most people don't know that: I lived in Florence, Italy for three months after graduating college and traveled throughout Europe with my best friends. A truly wonderful experience!
If I could spend time with one person, past or present, it would be: Blake Lively. She is an inspiring activist and lives her life authentically. I admire her compassion, zest for life and ongoing efforts to uplift those in marginalized groups and use her platform for good. Plus, I love her sense of humor and style.
One item I'd like to check off my bucket list: To continue to travel to one new place every year, including Egypt with my brother!