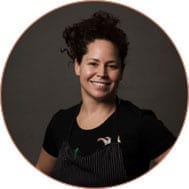 Stephanie Izard
Chef Ambassador
On May 21, 2014, Chef Stephanie Izard helped Family Reach kick off Cooking Live! Chicago. Inspired by the Family Reach mission, she signed on as an official Chef Ambassador. Stephanie captivated the audience with her cooking demo and won over their taste buds with the finished dish—a confit goat belly with asparagus and mushrooms. The main ingredient was no surprise to those who know and love Stephanie's acclaimed Chicago restaurants, The Girl & the Goat and Little Goat.
Stephanie was named "Best Chef: Great Lakes" by James Beard and "Best New Chef" by Food & Wine. A 2011 James Beard "Best New Restaurant" nominee, Girl & the Goat has been praised by high-profile publications such as Saveur, The New York Times, Food & Wine, and Better Homes and Gardens. Stephanie was the first woman to win Bravo's Top Chef and is the only winner of the original version of the show to take the title of "Fan Favorite." Her first book, Girl in the Kitchen, was released in the fall of 2011.
Learn more about The Girl & the Goat and Little Goat.