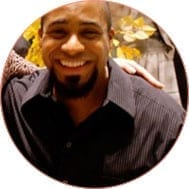 Shawn Burgo
Community Ambassador
Ten years apart in age, Shawn Burgo and his sister, Sonya, grew up on different sides of the country: he in Boston, she in L.A. Yet even with such a distance, they shared a special bond. In 2004, Shawn was devastated to learn that Sonya had been diagnosed with stage IV cancer. True to her strong personality and faith, Sonya kept a positive attitude and beat the odds by giving birth to a healthy son, Zion, despite her illness and complications. Sonya went on to see her son's first birthday and celebrate his first Christmas.
Throughout Sonya's illness, Shawn made regular trips across the country and quickly realized how complex a simple visit to the hospital could become. Shawn asked other families how they coped with the other, nonmedical costs of cancer treatment—from parking to paying rent and buying groceries. Many confessed that they had sold their cars and even their homes to cover the mounting costs. Shawn himself had cleaned out his own savings and leaned on family members so that he could always be by Sonya's side. "It was amazing to realize that just getting to the hospital can be such a huge expense, before you even get to the treatment and other costs of fighting cancer," recalled Shawn. "You just don't know it until you're facing it." Shawn began looking for organizations that could help these families, and discovered Family Reach right in his own backyard. He immediately started looking for ways to raise funds, engaging everyone he knew to participate.
When Sonya passed away in December 2006, Shawn was even more motivated to continue spreading the word about Family Reach in her memory. Through his efforts, Shawn has raised more than $15,000, which has been provided to other families struggling to make ends meet in the face of cancer. "I learned so much from Sonya, but one of the most important lessons she taught me in her illness is what a difference hope can make," said Shawn. "I often think about how Krav Maga gives you the skills to defend yourself in the worst possible situation. When you're fighting cancer, those physical skills won't get you anywhere—all you can do is keep your focus, and have hope. That's what Family Reach helps people do."
Shawn Burgo trains students in self-defense practices as the co-founder of Krav Maga Boston.