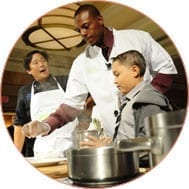 Paul Pierce
Celebrity Ambassador
Paul Pierce jumped in as a surprise Celebrity Sous-Chef for our 2013 Cooking Live! New York, alongside Jeffrey Donovan and Chef Ming Tsai. Our mission resonated with Paul and his wife, Julie, and they instantly found a way to help local families survive and thrive through the holidays amidst their battles with cancer.
Paul spent the first 15 years of his National Basketball Association (NBA) career with the Boston Celtics, who drafted him with the 10th overall pick in the 1998 NBA Draft. During his time with the team, he had been a starter for every season. In July 2013, Paul was sent to the Nets, along with teammates Kevin Garnett and Jason Terry. Shaquille O'Neal gave him the nickname, "The Truth," in March 2001.
For more information and stats, visit Paul Pierce's website.