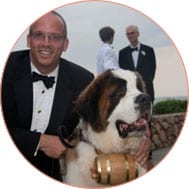 Michael Danzinger
Community Ambassador
Michael Danzinger was first introduced to the mission of Family Reach when he met Katie Morris, a 12-year-old with brain cancer. Michael first learned of Katie when she was profiled on ESPN's My Wish series, which featured children with life-threatening illnesses and the stories of how their special wishes were granted. Michael was so touched by Katie's story that he contacted her family and a friendship developed. For 9 months, he visited back and forth until Katie passed away. It was a transformative experience for Michael and gave him insight on how financial stress affects families fighting cancer. "Katie Morris' family was struggling financially and just sort of listening when I went to visit. I could see the tension and I could see how Katie knew that things were tough, and even gas to make the 3-hour drive to the hospital was expensive, and she was feeling sort of stressed out that her sickness was causing not only emotional stress but financial stress on her family."
When Family Reach Executive Director Carla Tardif presented Michael with an opportunity to help another family, single-mom Raquel and her 3-year-old son with leukemia Kalo, Michael was grateful for the opportunity to make a meaningful difference. The family had found themselves with exhausted resources and living in a homeless shelter. When Kalo needed a bone marrow transplant, the procedure could not be done until he was in a sterile environment. Family Reach provided a grant for a security deposit and first month's rent in a new apartment. Carla was then able to connect the family with Michael, who provided the additional financial support the family needed.
Seeing firsthand how his financial support made a real difference in Kalo's recovery, Michael concluded, "I firmly believe that Family Reach not only addresses a financial issue but also a medical one, because I believe that Kalo's treatment was far more effective because Kalo's mom was able to be with him all of the time and not running around trying to figure out how to get next month's rent and that sort of thing."
For 20 years, Michael has been helping underprivileged kids gain access to better and more competitive schools in Boston as the founder of the Steppingstone Foundation.