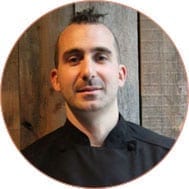 Marc Forgione
Chef Ambassador
Chef Marc Forgione has opened his restaurants to Family Reach and has been a featured chef for Cooking Live! New York since it began in 2012. Together, these events raised nearly $1 million to support families struggling with the financial burdens of cancer. Marc Forgione cooked for Raquel and Kalo, who found themselves living in a homeless shelter. Family Reach provided a grant that helped Raquel secure a safe apartment in which Kalo could recover, enabling him to qualify for a life-saving bone marrow transplant.
Marc Forgione is the chef and owner of Restaurant Marc Forgione and American Cut in New York City and Revel in Atlantic City. Restaurant Marc Forgione was recognized with a glowing 2-star review in The New York Times. In the summer of 2013, he opened the Laotian restaurant, Khe-Yo, in New York with Executive Chef Soulayphet Schwader. Marc Forgione is the youngest American-born chef to receive a Michelin star 3 consecutive years. He is also 1 of the 7 chefs competing on Food Network's Iron Chef America, following his win on Season 3 of The Next Iron Chef.
Visit Marc Forgione's website for more information.