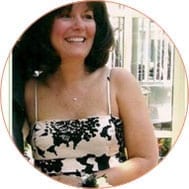 Linda Manzella
Community Ambassador
A close friend of the Colangelos for decades, Linda Manzella is a passionate and involved Community Ambassador and volunteer. Involved for over 10 years, Linda has both created new opportunities to raise money at existing events and launched a few new events. According to Linda, she looks at everything through "a Family Reach lens" and has helped to identify families in need to receive support from Family Reach. "We're so touched by what Family Reach can do and have so much fun doing it. This is truly a group of friends who care about each other as much as they care about the mission of helping other families," she said. "The warmth and generosity of this 'family' has even helped my own, getting my husband through cancer by keeping us involved and inspired."
Linda originally got involved with the Dinner Dance, the longest-running and most successful fundraising event for Family Reach. A key contributor to the event year after year, it was Linda's idea to incorporate a gift auction to generate additional financial support for Family Reach families. Linda has also expanded the Family Reach fundraiser, Giving Tree, to Battle Hill elementary school, where students and faculty have donated hundreds of dollars in gift cards during the holiday season to families fighting pediatric cancers at hospitals across the state.
After years of growing existing events and programs, Linda started her own event to benefit Family Reach. In June 2009, the avid bowler gathered nearly 30 friends and family at Garwood Lanes in Garwood, NJ, for a bowl-a-thon. A repeat event in February 2011 brought the total raised by this event to nearly $10,000.
After 35 years of teaching math, Linda is retired and lives with her family in New Jersey.