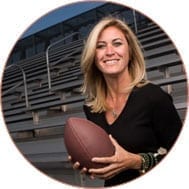 Kristen Kuliga
Community Ambassador
Long before she became a Family Reach Community Ambassador, Kristen Kuliga was dedicated to helping others. As a young law student, Kristen joined a group of like-minded students offering pro bono legal services to the residents of the New England Shelter for Homeless Veterans. Shortly after, Kristen and the other students formed a 501(c) 3 corporation called Shelter Legal Services. Today, the organization still serves homeless and low-income veterans in New England and Kristen remains involved as a member of its Board of Directors.
Kristen became involved with Family Reach through Carla Tardif, now Executive Director of Family Reach. Kristen was especially drawn to the mission of Family Reach because of the direct impact it made in the community. "I believe in programs that directly help families because you can actually see the impact, and while funding for (cancer) research is so important, I guess for me, anything that has a direct impact is probably more of my soft spot." Since becoming a Family Reach Community Ambassador, Kristen has worked to create the Flavors of the Gaslamp, a fundraising event hosted by NFL players and featuring fine food from award-winning restaurants in San Diego's Gaslamp Quarter. Family Reach is honored to be one of the beneficiaries at this annual event. The proceeds from Flavors of the Gaslamp enable Family Reach to provide financial assistance to families at partner hospital Rady Children's Hospital San Diego.
Kristen also introduced Family Reach to the National Sports Marketing Network (NSMN) and Sports Tackles Cancer, an industry-wide fundraising program organized by NSMN that unites sports business executives and sports fans in the fight against cancer, as well as EMD Millipore, a Boston-based pharmaceutical company. These introductions have led to additional awareness, new events, and further funding for Family Reach.
A successful lawyer, Kristen worked at Woolf Associates, a family-run sports and entertainment management and marketing firm in Boston. She has since established her own sports and entertainment management and marketing firm, K Sports and Entertainment, LLC, and become a very successful certified NFL agent.