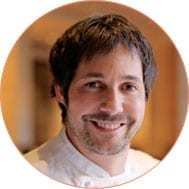 Ken Oringer
Chef Ambassador
In January 2014, Chef Ken Oringer hosted the Family Reach team and close supporters for an annual celebration. He continues to share his talents to further the Family Reach mission.
As one of Boston's most notable chefs and restaurateurs, Ken Oringer began his career working under David Burke at River Café in New York City and Jean-Georges Vongerichten at Le Marquis de Lafayette in Boston. He opened his first restaurant, Clio, in Boston in 1997. He received a James Beard Award nomination for Best Chef Northeast four years in a row, and was honored with Best Chef Northeast in 2001. He went on to open Uni, Toro, and Coppa in Boston, Earth in Kennebunkport, ME, and, most recently, a New York incarnation of his popular Barcelona-style tapas bar, Toro.
Visit Ken Oringer's website for more information.